I recently moved from the East Coast to Western Washington. Everywhere I go, I'm bombarded by neon green and navy blue Seahawks products. They're sold at the supermarket, they're sold at the hardware store, and I can buy thousands of products with the logo on it from the internet. Earlier today, I was poking around online looking for some Team Secret merchandise, as my Cloud9 shirt is no longer relevant. Team Secret, an organization sporting one of the most popular Dota 2 teams in history, has a small online storefront that sells only jerseys for $60 each. What's wrong with this picture?
A few months ago, the Team Secret Shop had a few more offerings in it – women's cut jerseys for the same price. A welcome expansion (although they're gone now), but not exactly appealing to the masses.  I looked wistfully at the ladies' Pieliedie jersey for a few minutes before remembering that I didn't have $60 to spend on a frivolous purchase. I remember a Reddit thread last year where the OP was pretty pissed because he dropped a huge chunk of change on an Arteezy jersey right before Artour went back to EG (dude I hope you kept it). Player-branded jerseys at that price point are ridiculous, frankly. Rosters change several times a year leaving fans stuck with expensive merchandise that isn't totally relevant. HK army also offered Holiday Editions, which I found… confusing, to say the least.
What do we want? First off, let's talk about affordability. I've used this phrase before, but generally you want to appeal to 95% of the people 95% of the time to do well in business. A $60 jersey is not appealing to 95% of the people. A $60 jersey is a luxury that most potential customers in the target audience are going to have to plan and/or save up for. $60 pays my utility bill for the month. Offer some lower-pricepoint branded items, like basic t shirts or stickers. Both are relatively easy to obtain and will appeal to fans with shallower pockets. A good example of this is how Cloud9's store has evolved. When I was first looking for c9 merchandise in 2014, they had a couple of shirts and a sweatshirt available. The shipping cost was inexplicably $10 for domestic first class mail. Since then, the shop has expanded to offer posters, lanyards, stickers, mousepads, and more. The larger variety at different prices opens up the merchandise to a larger audience as well as creates the potential for repeat customers. They've fixed the shipping calculator as well, but we'll get into that in a minute.
Marketing & Distribution of Merchandise
When Team Secret finally got merchandise up for sale (which was several months after the team's inception if I remember correctly), they promoted it on social media. Smart, right? However in the case of Team Secret, their merchandise is produced by HK Army, who is a retailer of paintball supplies. Not necessarily a bad thing, but it's not exactly intuitive that a paintball retailer would also offer eSports Team merchandise.
Digital Chaos, a relatively new organization created by popular Dota 2 caster SUNSFAN and streamer Sajedene, had an online shop pretty much ready to go from Day 1. The logo and branding were well thought out and the website was attractive and organized. The shop is managed by a company called District Lines. Shortly after the team's first few appearances in tournaments I was browsing the shop, thinking about ordering a tank top because I wanted to support the new organization (and Aui_2000) and I like purple. District Lines' checkout process spits out a "Standard Shipping" cost of $6.89 at me – this is on an item that probably weighs 7oz and is being sent within the same country. That's pretty unacceptable to me, and I won't purchase it for that reason. I know how much it costs to ship stuff in the United States, I do it all the time. Forget about international shipping – it's almost always absurdly expensive.
While we're on the subject of logos, let's talk about the Team Empire organization. They used to have a classy horse logo (which you can still purchase in the shop), but they recently switched over to this absurd cartoonish thing that looks like a high school mascot.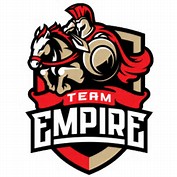 I know this is a matter of personal opinion but who approved this switch? On the other hand, I appreciate that the Empire organization started offering merchandise in the United States. In the past, I had to use Chrome to translate from Russian to see what merch they had to offer, and I'm pretty sure they weren't shipping it out of Russia. Good for you, Empire – at least you reached out to your international fans. Also, DesignByHumans, who runs Empire's (and Evil Geniuses') shops, periodically offers free shipping.
It boils down to this: eSports Organizations, you are losing money every day by not offering enough diversity of product at different prices. Your reliance on 3rd party websites to manage your stores is killing your business, as most people aren't going to be happy about paying 1/3 of the item's retail price in shipping costs for domestic shipping. Considering the online nature of eSports, why aren't you optimizing for your web-based audience? Ditch the retailers who can't even handle calculating shipping accurately and set up your own storefront. Work with a local screen print shop to get the items made or use VistaPrint. Pay a person to pack and ship orders all day. Offer some stuff that doesn't cost a day's worth of pay to get your logo out there into the world. At least within the United States, your target audience has some disposable income. Capitalize on repeat customers by offering smaller items. Capture international business by offering affordable "flats" – things like stickers that can be easily and cheaply sent overseas. And for the love of Zeus, stop with the expensive player-branded items. They're gonna switch teams eventually, I do not want to be stuck with a $50 jersey once an inevitable shuffle happens. Sell me a $15 player branded shirt instead.
I want to give you my money, why are you making it so difficult?