Saahil "Universe" Arora used to play offlane for North America's top Dota 2 team, Evil Geniuses (EG). Universe currently has the third highest career earnings of all esports players. He's played Dota 2 professionally since the game's inception in 2011. With EG, he won The International 2015 (TI5), Dota 2's annual championship tournament. Universe is widely regarded as one of the best players in the game and he is consistently one of the top players on the Americas regional leaderboard. And on December 20th, Evil Geniuses kicked Universe from their team.
Universe might be the greatest Dota 2 offlaner of all time. Why did EG kick him?
The Downside of Genius
Evil Geniuses tries to do too much, because they're talented. At times, this bites the team in the ass. Each individual player has their own idea of how to handle specific situations. And EG's members weren't able to get on the same page when it mattered the most.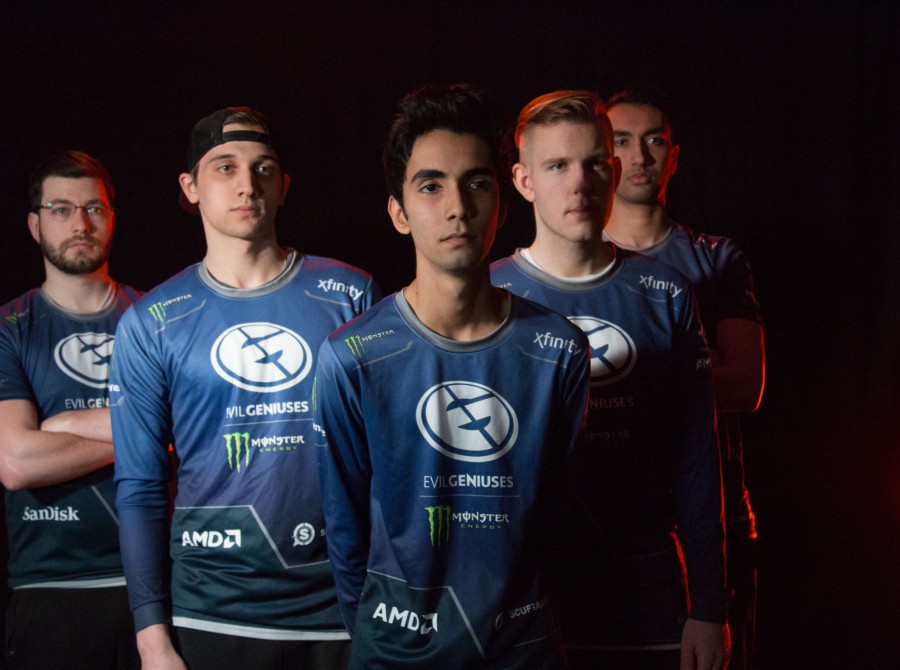 EG's performance at TI7's Main Event was a disaster. They were eliminated without winning a single playoff match. Not only did they lose four games in a row, EG also threw away sizable leads in almost every single one of them. The result was an unacceptable 9-12th place. Going into TI7, EG's era of dominance was unparalleled. The team had been a fixture of TI's top three for the last three years. Subsequently, Evil Geniuses brought coach Clinton "Fear" Loomis back from retirement to captain the team and provide stability. But their woes continued into this season's Dota Pro Circuit.
It was the same story. EG couldn't coordinate and execute beyond the early game. Their lack of decisiveness was on display in their opening match against Team Secret at the ESL One Hamburg Major. Evil Geniuses had a 6k gold lead and a 15-3 kill score advantage just 23 minutes in. However, they were unable to keep up the pressure or take any key objectives. Team Secret proceeded to outplay and outfarm them. In the next fifteen minutes, Secret secured seventeen kills to EG's one and staged an impressive comeback, eventually taking the match. Evil Geniuses eventually finished 5-6th place out of the eight teams in the tournament.
Something was missing, and it's fair to say that Universe was part of the problem.
The Way of The Universe
Dota 2's offlane position is like basketball's small forward. They're both known as the '3' and are typically the most versatile player on their team. In any given game, an offlaner can end up poorer than the team's supports or richer than their cores. Offlaners are often spacemakers and playmakers. They buy time for their teammates to get the necessary items and spells, and they deliver devastating disables during teamfights.
Universe gravitates toward safety and stability. This means that Universe is unlikely to feed, as offlaners sometimes do. But it also means that there's less space for EG's superstar cores—Artour "Arteezy" Babaev and Syed "SumaiL" Hassan—to farm. This wasn't much of an issue against lesser teams. Against the top opponents, however, EG often struggled to allocate resources effectively.
The changes in Patch 7.07 provided further challenges for Universe and his conservative playstyle. Iron Talon, an item which enabled offlaners to abandon their lane and farm the jungle, was removed from the game. Additionally, creep denies were changed to yield significantly less experience points to the opposing hero. In a pre-kick interview with Monster Energy, Universe acknowledged that he needed to adjust his playstyle for the patch and for his teammates.
Unfortunately, Evil Geniuses didn't have the patience.
EG's Bizarre Roster Reveal
EG's third place finish at the DreamLeague Major was fine, but falling to 6-7th place at The Summit 8 meant that changes were coming. From the outside looking in, support player Andreas "Cr1t-" Nielsen was the likely target. He was the newest member of the team and his confidence seemed shaky after TI7, which was a shame because he was clearly growing as a captain.
Then Evil Geniuses made an announcement: Universe was out. Rasmus "MISERY" Filipsen took over as captain. SumaiL was switching to offlane. And Fear was back to playing a core position. Fans were baffled. And so was former Evil Geniuses captain-turned-CEO Peter "ppd" Dager:
Some free advice @EvilGeniuses kick @Arteezy or @SumaaaaiL. Not @UniverseDota who is a godlike player, especially on the big stage. Here's hoping he joins another NA team and dominates! #Bleedblue

— Peter Dager (@Peterpandam) December 20, 2017
Many believed that ppd would quickly swoop in and give Universe a position on his new team, OpTic Gaming. That hasn't happened—at least not yet. As of this writing, Universe still has not signed with a team.
Lft pic.twitter.com/sVfV8LVdU3

— Saahil Arora (@UniverseDota) December 20, 2017
MISERY is EG's third captain since ppd left the lineup in September 2016. Strangely enough, the previous two captains (Cr1t- and Fear) are still on the team.
Hypothetically, here's how the new EG looks: MISERY provides the decisive voice that the team lacks, since he isn't best buds with everybody and won't be afraid of hurt feelings. The Danish support duo of MISERY and Cr1t- creates the space needed to ensure the success of their teammates. Fear's return to a core position adds an element of flexibility, since his hero pool is huge and he has no problem with playing a sacrificial role. It's reasonable to assume that Evil Geniuses will try to set up their lanes in a way that's advantageous for Arteezy and SumaiL.
Was Universe Left or Right?
Prior to kicking Universe, EG was in a solid but unspectacular fifth place in the Dota Pro Circuit standings. Now they're in the hot seat. If this move doesn't work, they're screwed. The entire regional landscape of North American Dota 2 could change as a consequence. There's no shortage of teams eager to dethrone Evil Geniuses. Universe may very well end up on one of them.
Did Evil Geniuses make a huge mistake? It depends on how things turn out. And these stories—beefs or revenge narratives, if you will—are part of what makes Dota 2 so compelling to follow and watch.