The time has almost come. Following last week's announcement that Blizzard's next-gen shooter will be released on May 24th, we're only a couple of months away from Overwatch making its way to PC, PS4 and Xbox One. Even better, Blizzard have announced an open beta to give players the opportunity to try out the game from May 5-9. If you pre-purchase Overwatch digitally or at participating retailers, you'll also unlock early access to the upcoming open beta for you and a friend starting from May 3-4. You'll get access to all the heroes and all the maps so make sure you don't miss out on this fantastic chance to get an early taste of some Overwatch action. If you are looking to pre-purchase a copy then you might be wondering: which edition should I buy? Let's take a look.
Overwatch: Standard Edition
If you just want to play the game and you're not too bothered about cosmetics or other digital knick-knacks, buying the standard edition of Overwatch is the way to go. Spending the extra cash on the other editions doesn't give you any sort of competitive edge and all the heroes and maps will be available to everyone once the game launches.
You can always worry about customizing your heroes later on, since you're bound to collect loads of skins over time if you play enough games. (However, you do get the Noire Skin for Widowmaker just by pre-purchasing Overwatch, regardless of the edition you choose to get.)
Overwatch: Origins Edition
If you're happy to spend a bit more and snag some bonus loot, the Overwatch: Origins Edition gives you a bunch of awesome skins, as well as some special in-game goodies for Blizzard's other titles, including a card back for Hearthstone and a new item for Diablo III. If Pharah is already your favorite hero and you prefer the look of the rugged Security Chief skin over her standard metallic blue appearance then you might want to consider getting this edition.
If you play multiple Blizzard games and you want a World of Warcraft Winston pet or use Tracer in Heroes of the Storm, then buying the Origins Edition is probably the right choice.
 Overwatch: Collector's Edition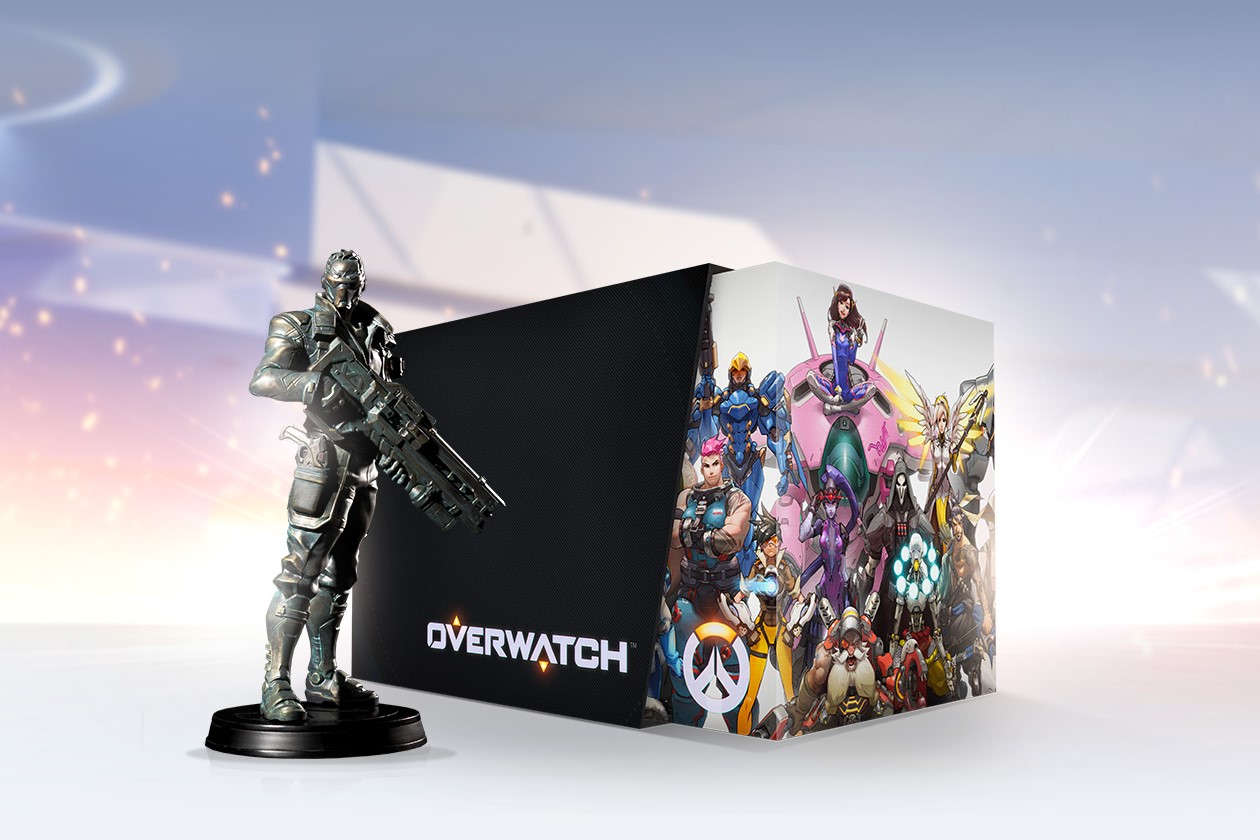 For those out there who want to have it all, then the Collector's Edition is the ultimate package for Overwatch fans. In addition to the actual game itself, you'll also receive the Overwatch soundtrack, a beautiful Overwatch visual sourcebook with detailed artwork, lore, and background information about the characters, as well as a 12.8" Soldier: 76 statue for you to decorate your desk with. The Collector's Edition includes all of the extra stuff that's in the Origins Edition. This is a fantastic package for the most hardcore fans of the game, and if you're already head-over-heels in love with Overwatch, the Collector's Edition is probably the one for you.