On February 1st, G2 Esports announced their successful acquisition of the ex-Titan roster. The move comes only two weeks after G2 sold their CS:GO team to Call of Duty organization FaZe Clan for a reported — and unprecedented in Counter-Strike history — fee of $700,000. According to a press release from G2, the new team was selected "after weeks of research, discussion, and thorough evaluation."
G2.Kinguin's new roster is Kévin "Ex6TenZ" Droolans, Adil "ScreaM" Benrlitom, Cédric "RpK" Guipouy, Richard "shox" Papillon and Edouard "SmithZz" Dubourdeaux. I'm unclear as to why G2 decided to draw anime versions of the players to go alongside their official announcement, but they did, and I've included it here for your viewing pleasure.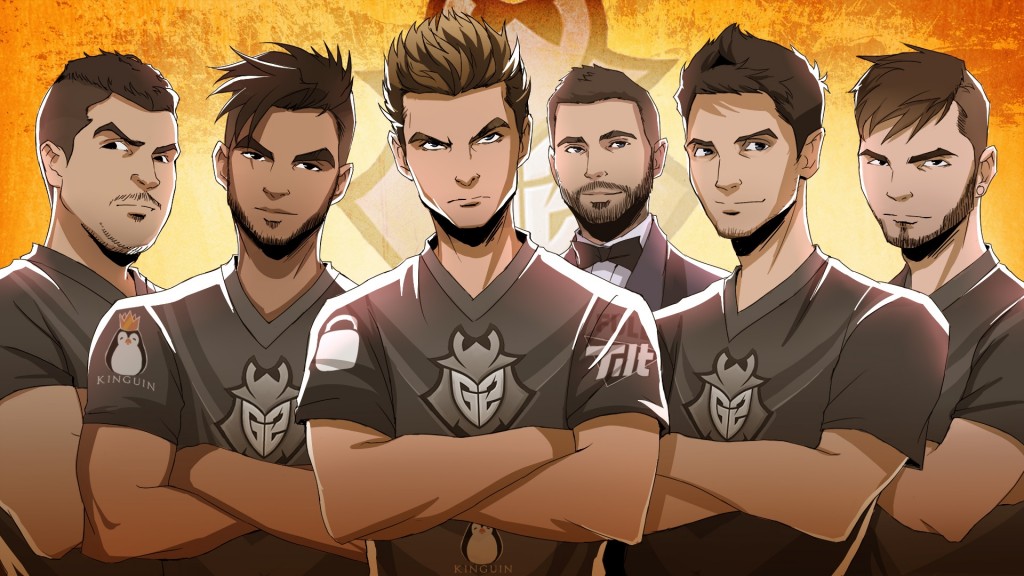 This is good news for the French-Belgian team, who found themselves without an organization at the start of 2016. On January 13, Titan issued a statement alerting the public that they were starting the year "without a budget high enough to keep a CS:GO team or pay our amazing staff…Titan is ceasing operations and releasing all current players and staff into this beautiful esports wilderness." Damien Grust, Titan's founder, pointed a finger at Hovik "KQLY" Tovmassian, who was banned for cheating from Valve prior to the DreamHack Winter 2014 Major, for much of the organization's financial woes. According to Grust,  KQLY's VAC ban caused sponsors to back out of lucrative partnerships with Titan, a trend that haunted the company during 2015, and, ultimately, sent the organization's finances into a downward spiral.
It's hard, borderline impossible, to ignore the disappointing results that the ex-Titan lineup posted throughout 2015. The only consistency the team seemed to have was their uncanny ability to disappoint fans and analysts at large events. Titan's disastrous performance at DreamHack-Cluj Napoca 2015 comes to mind, where Titan failed to make it out of the group stage and faced an embarassing 2:0 defeat against a resurgent Ninjas in Pyjamas. This humbling experience was, as the tweets below show, not a new experience for Titan.
A team that struggled as much as Titan during 2015 would be likely to experiment with roster changes, and the French organization was no exception. The team, frustrated with results, made a drastic and unexpected roster change in July. Titan traded AWP superstar Kenny "kennyS" Schrub and entry fragger Dan "apEX" Madesclaire to their French  rivals, Team EnVyUs (nV). In return, Titan received the oft-overshadowed AWPer SmithZz, as well as shox, an explosive and aggressive player capable of single-handedly demolishing opponents. Judging by results alone, given that nV would finish second at ESL One Cologne 2015 and then go on to secure a Major title at Cluj-Napoca, Titan clearly seems to have gotten a worse deal. 
SmithZz
The loss of kennyS, whose AWP was the focal point that Titan's master strategist and in-game leader Ex6Tenz structured the entire team around, is a fairly obvious downgrade in firepower. Any AWPer following in his footsteps would have impossibly large shoes to fill. Although SmithZz remains an average player statistically, I have been more impressed with his individual performance and playmaking ability since he joined Titan than I ever was when he played with the EnVyUs roster. Given that certain teammates on EnVyUs had a habit of deciding to take over AWPing duties, SmithZz has a more secure and clearly defined role on the new G2 lineup.
Shox
While it's unfair to compare SmithZz to a star AWPer like kennyS, the acquisition of shox is more promising for the team. Papillon is, as he demonstrated during his time with EnVyUs, a force to be reckoned with. Although not immune to inconsistency, Papillon is one of few players who, at least statistically, performs better on LAN than he does online. In 2015,  Papillon had a 1.06 average rating in online matches. However, his average rating at LANs was 1.09 during the year, and even more importantly, shox actually performed better at Majors — his average rating across the three majors held in 2015 was 1.11. These are relatively small increases, but CS is a game of the smallest margins, and G2 will certainly need every advantage they can get, especially at Majors. Shox is, however, often cited as a 'loose cannon' who dislikes taking orders, a potential source of friction between Papillon and Ex6Tenz, who is frequently celebrated for his elaborate and tactical approach to the game.
ScreaM
Fan-favorite Adil "ScreaM" Benrlitom will actually be returning to G2, as the Belgian headshot machine had been picked up by the org earlier in 2015 before his contract was allegedly bought out by Titan for the princely sum of $150,000. Critics of ScreaM might argue that the Belgian professional unnecessarily handicaps himself with his insistence on tap-shooting with rifles instead of spraying, there is no denying Benrlitom's raw aim. Take a look at this match-up against EnVyUs, the team that G2's success will undoubtedly be measured against, where ScreaM dropped 22 frags and had a headshot percentage of 95.5%.
What Now?
Perhaps all of the pieces are finally in place for ex-Titan. The overall "firepower" has been distributed more equally across the team now that kennyS has departed. SmithZz is a skilled enough AWPer, and shox is just as proficient with the big green gun if the team decides to run a double-AWP setup. Indeed, the godlike aim of shox and ScreaM, alongside the stability of SmithZz and RpK, are in the hands of Ex6TenZ. Hopefully, for a player who is often heralded as one of the greatest in-game leaders of all-time, he is ready for the challenge.