Worlds Group A 2016
This past weekend the 2016 Worlds group draw took place, leaving us some time to salivate over the opening matches we'll be seeing when the end of the year Worlds tournament officially kicks off on September 29th.
Over the next week or so we'll be taking a closer look at each one of the 4 groups and giving a brief preview of what you can look forward to. Today we'll be taking a closer look at Group A; featuring ROX Tigers (Korea), G2 Esports (Europe), Counter-Logic Gaming (North America), and Albus NoX (Russia [IWC]).
ROX Tigers
The LCK's ROX Tigers are unquestionably the favorite to not only win this group, but dominate it. This is a team that is facing favorable odds to win the entire tournament. A couple games against G2/CLG/ANX are nothing to worry about for the ROX Tigers.
The player to watch for on ROX is their top laner Smeb. Smeb is coming off of back-to-back Spring and Summer LCK MVP titles and into a Worlds' group where his competition is Expect, Darshan, and Smurf. This could get ugly.
It would be a massive upset to see ROX finish second in their group, let alone not move on to the knockout stages.
G2 Esports
when you draw ROX first but then CLG and Albus Nox pic.twitter.com/2DmZgchdXV

— 1️⃣9️⃣ (@BasedGodNorthy) September 10, 2016
G2 must have experienced quite a range of emotions when watching the Worlds group draw live on Saturday. First they were drafted into the same group as ROX – a death sentence. But then they rolled two consecutive beat-able opponents in CLG and Albus NoX, revealing a bright light at the end of the tunnel.
G2 is a team with a ton of talent. They have the potential to be dominant in nearly every role. The real question is which G2 are we going to see at Worlds? G2 coasted their way to winning the EU LCS Championship this Summer without really being challenged. Perkz didn't look quite as good as he did in Spring, and Expect shows weakness in the top lane. Will that be exploited?
G2 only need to focus on performing better than CLG and ANX at this point. If they can avoid taking their weaker opponents too lightly, they have a good shot of moving on to the knockout stage.
Counter-Logic Gaming
What a year it's been for CLG. This team played the role of being the great North American hope at the Mid-Season Invitational where they beat out their international opponents up until losing to SKT in the Finals. Not bad. However, since then they've been playing catch-up with the meta changes and only recently have started to trend upwards.
This is a difficult group for CLG. Even if you discount ANX entirely, CLG will have to make some magic happen for them to get the best of ROX, or even G2. Their lack of individual ability will be punished in the current meta which doesn't allow for lane swaps. If nothing else, this tournament may be the deciding factor in off-season roster changes for CLG.
Albus NoX Luna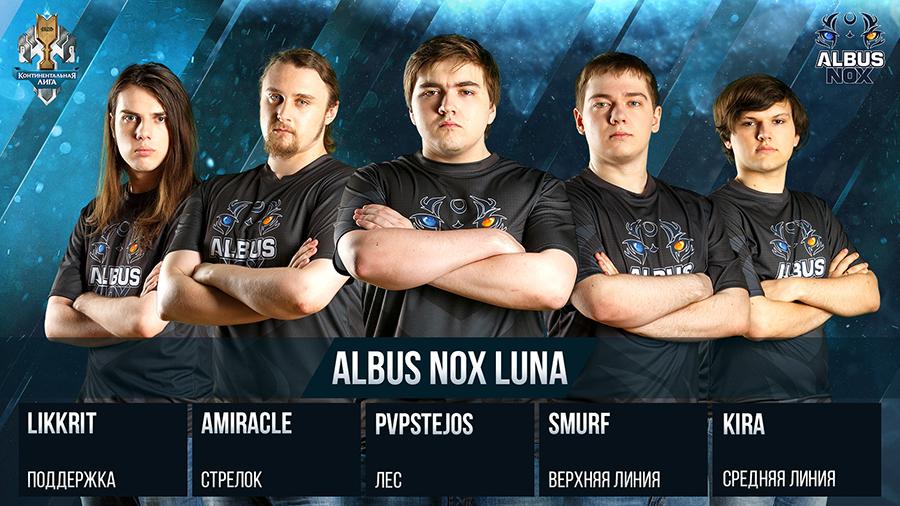 Albux NoX Luna qualified for Worlds by defeating Latin American team Lyon Gaming 3-2 in the International Wildcard qualifiers; a tournament which take all of the winners of smaller regions (Brazil, Japan, Latin America, etc.) and puts them against each other to determine which teams will represent the Wildcard region.
Albus NoX are a Russian team formerly known as Hard Random. ANX are coming off of a dominating season in which they finished first place in the summer split, and then took home the championship prize by defeating Vegas Squadron 3-2 in the LCL summer playoffs.
Like all wildcard teams, expectations for ANX are low. They have earned the experience of trying their hand at teams coming from the strongest regions in the World, and that's what they will do.
This has been the first of four articles in a series that will take a closer look at each of the Worlds 2016 groups. Stay tuned for more!