Team Liquid is one of the oldest team names in esports. They date back to 2000, long before they, or anyone else, had professional members on their team.
They were originally a StarCraft clan, and in 2010, with the release of StarCraft II: Wings of Liberty, they signed their first professional players. From there the team brand saw an upwards trajectory. In 2012 they branched into Dota 2, and in 2015 they merged with Team Curse, and acquired their League of Legends team.
Team Curse was formed in 2010 by LiQuiD112. They were quickly acquired by Curse Inc. and renamed Team Curse. They competed from 2011 to 2015, at which point new regulations forced Curse cease being a sponsor. At that point the team merged with Team Liquid, and took on their name.
Team Curse
Team Curse was founded in 2010, and played their first competitive game in 2011. Their original lineup consisted of LiQuiD112 (Support), DoubleLift (ADC), Pobelter (Top), Lapaka (Jungle), and Nyjacky (Mid). The team entered a tournament right after being sponsored, and were crushed. They continued playing together, and continued being beaten.
In late 2011 and early 2012, their entire roster shifted. LiQuiD112 moved into a manager role, and DoubleLift left for CLG. Lapaka left citing personal conflict, and Pobelter was too young to move into the gaming house. With Nyjacky as the only remaining player of their first roster, Team Curse moved forward with a whole new lineup: Cop (ADC), Saintvicious (Jungle), Westrice (Top), Nyjacky (Mid), and Elementz (Support). With this lineup they took the world by force, but did not qualify for the Season Two World Championship.
Season Three saw another roster change: they signed an iconic player, Voyboy, to replace Westrice. The rest of their roster remained unchanged. They began Season Three by fighting their way back into the NA LCS, and did so without losing a game. This was their best season to date, and at the end of splits they were in second place, behind TSM. Unfortunately, in the actual semifinals they were unable to perform up to par; they lost both their games, and ended up in fourth place.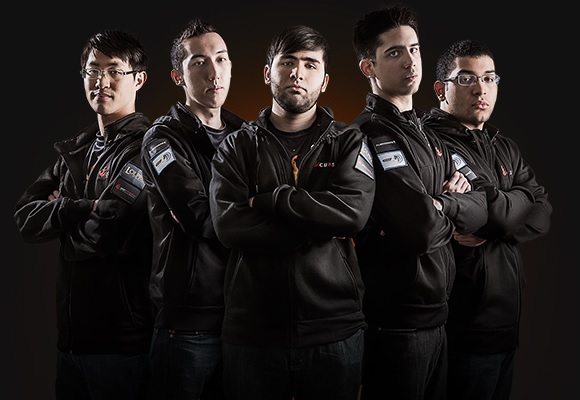 After this disappointing placement, Team Curse opened up tryouts for every position of the team. The final roster was: Zekent (Support), Cop (ADC), Voyboy (Mid), IWillDominate (Jungle), and Quas (Top). However, halfway through the season, Zekent was replaced by Saintvicious, who was quickly replaced by BunnyFufu. With this new and improved lineup, Team Curse proceeded to once again come fourth, and once again, not make it to Worlds.
In 2015, Cop was replaced by Piglet on ADC, Voyboy was replaced by FeniX in Mid, and Xpecial replaced BunnyFufu on Support. Shortly thereafter, Curse pulled their sponsorship because of issues with Riot's sponsorship policies. The team was acquired by Team Liquid, and Team Curse was no more.
Team Liquid
Team Liquid acquired the former Team Curse roster in 2015. They left the lineup unchanged, going into the LCS with Quas (Top), IWillDominate (Jungle), FeniX (Mid), Piglet (ADC), and Xpecial (Support). Throughout Season Five they were doing very poorly,  and replaced Piglet with their sub KEITHMCBRIEF. After that, they managed to come third in the NA LCS summer playoffs.
Going into Season Six, their roster went through a least a thousand players, give or take. They announced a secondary team, and brought on nearly a dozen players (first string and subs). Their final roster ended up being Lourlo (Mid), Dardoch (Jungle), FeniX (Mid), Piglet (ADC), and Matt (Support). As usual, they ended up taking fourth place in Season Six.
Season Seven saw only two players swapped, which was a low number for this team. They changed out Dardoch for Reignover, and FeniX for GoldenGlue. Their season started off abysmally, with the team not synergizing or playing up to par. However, halfway through they were able to reacquire an old friend. Piglet was benched in favour of the returning DoubleLift. GoldenGlue was also having some issues, and was sent to Korea for bootcamp. With the increased training and new ADC, they were able to drag themselves out of the gutter, but still only managed to come in ninth place.
After Worlds 2017
Since Season Seven ended, Team Liquid decided to once again tear their lineup apart and start fresh. The only player remaining is the recently acquired DoubleLift, with the rest all sent to other teams. Their current lineup is: Impact (Top), Xmithie (Jungle), Pobelter (Mid) (finally of age and ready to play for his team), Doublelift (ADC), and Olleh (Support). This is the strongest lineup they've probably ever had. Now that Team Liquid is one of the ten franchised teams in the North American LCS, they're putting their big boy pants on and stepping up to the plate.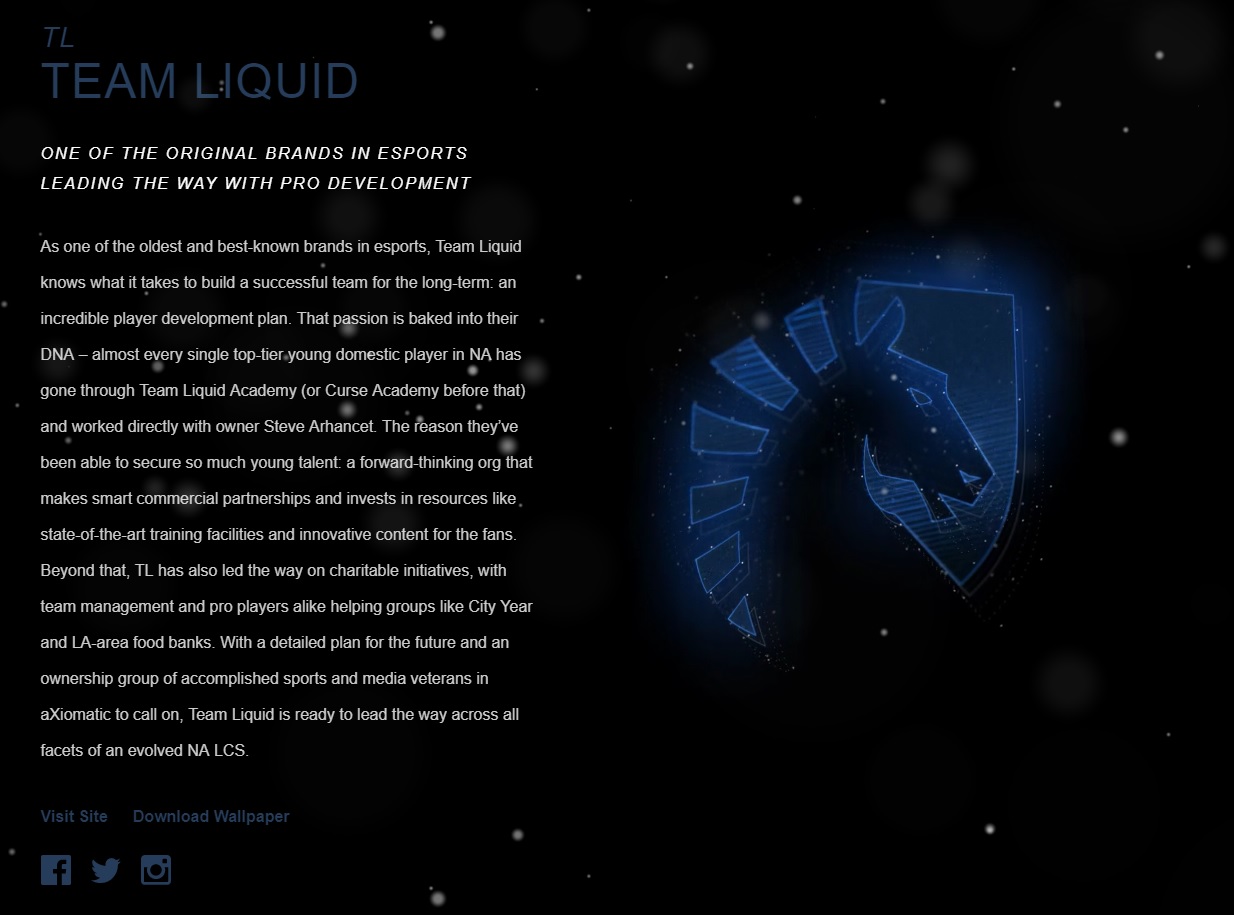 With this lineup, Team Liquid is finally feels like a strong contender, and could very well take first place in the NA LCS. They have what many consider to be the best ADC in the league, with a strong team surrounding him. If they have ever had a chance to break their 'fourth place curse,' now's the time.
Team Liquid is currently sitting tied (with Clutch Gaming) for third place at 6-4, right behind Cloud9 (second, 8-2) and Echo Fox (first, 9-1). Will they be able to climb further and make it to the World Championship this year? We will just have to keep watching.