The first stage of the Overwatch League has come to a close, and teams are taking the opportunity to re-evaluate their rosters. Of all of the teams in the league, the 0-10 Shanghai Dragons have made the biggest set of roster changes, signing four additional players. Although all of them are worth talking about, one player's story stands out more than most. Aside from being one of the best off-tank players in the world (in addition to the several professional accolades that she's already acquired), Kim "Geguri" Se-yeon has the distinction of being the league's first female player.
A Remarkable Story
For being as young as she is (18), Geguri has already had a remarkable career. She started her Overwatch life by climbing into the top 500 on the South Korean ladder, playing primarily Zarya. She reached a win rate of 80% over more than 400 games played. As a result, at age 17, she was picked up by the ROX Orcas of the APEX scene (the predecessor to the Overwatch League). Although the team itself didn't do very well (placing in a tie for dead last in its first and only try at the APEX Premier tournament), Geguri performed quite well individually.
This is also where she first came into the limelight, albeit not in a particularly positive way. Based on a match in the Nexus Cup Korean qualifiers in June of 2016, a few professional players and viewers accused her of using an aimbot because her mouse precision was not "humanly possible." Her opponents were so sure that she was cheating, in fact, that they said that they would give up their professional Overwatch careers completely if it was proven she was "clean."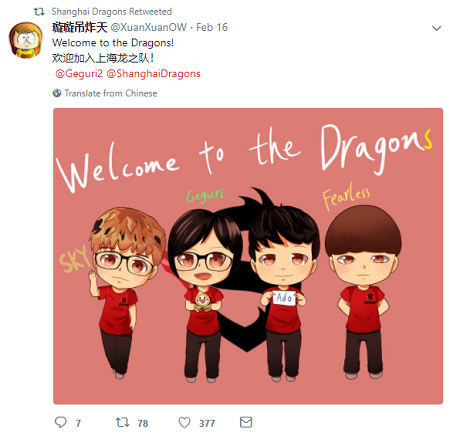 Shortly thereafter, Geguri live-streamed her play in a controlled studio setting. Almost immediately after starting, it was apparent that although her aim might have been on the fringe of human possibility, she was doing it naturally. Blizzard confirmed that there was no malicious activity on her account and cleared her of all allegations; her opponents from the match, as they originally threatened, did end their professional careers. Their team was disbanded as a result. After that point, it's become widely accepted that Geguri is not only a legitimate professional player, but one with unreasonably good aim.
Breaking Down Barriers
Although Geguri's inclusion in the league has been largely met with positive responses from the community, there's been some degree of questioning as to why she wasn't selected right from day one. Back in January, Kotaku published an article questioning why no team had wanted to consider Geguri. There are a lot of concerns that were voiced: co-ed player housing being one of them, and her recruitment being questioned as a PR stunt as another.
Many teams, including the Houston Outlaws and the New York Excelsior, acknowledged her skill, but had other concerns. The Outlaws are a completely English team, and the Excelsior, despite being all South Korean, wanted to maintain a core of players who had experience working together (Geguri had never played with anyone on their roster).
Although some news sources believe the lack of her selection was completely based on gender, and cite the difficulties of gender perception in video games, it seems on the surface that Geguri's case was legitimately more of a timing issue. It wasn't that teams weren't considering her; rather, they each had plans that she didn't fit in to.
For Shanghai, a team that's won exactly 6 of its 42 maps played to date, they needed a major shake-up after phase one. Although they recruited Geguri for her abilities (and indeed, recruited her for her abilities despite the language barriers), this certainly has the side-effect of being a big step for female Overwatch players, and female professional gamers in general. Although there are a few notable exceptions (specifically Starcraft II's Scarlett), most popular esports are completely devoid of female players at the professional level, and seeing the first in Overwatch is a very welcome change.
The Solution to Shanghai's Problems?
As of this publication date, Geguri was ranked 50th on the Korean servers with an SR of 4,413. Will that be enough to break Shanghai's 10 match losing streak? It's a difficult question to ask. Geguri is absolutely a better player than either of the two tank/Flex players that the Shanghai Dragons currently employ. Many of Shanghai's losses were also incredibly close matches, so she just might be able to bring the team up a notch in the future when they play against lower-tier teams.
However, she brings with her a new obstacle that the team now has to weather: Geguri, and two of her newly recruited teammates, don't speak Mandarin, which is what the Dragons use to communicate. Being South Korean, Geguri and the others will not only need to learn basic English to navigate around their new-found home in the United States, they'll also need to learn Mandarin in order to actually play the game effectively. While this is certainly a fixable problem, it's one that will likely slow the process of integrating with the team, and might result in a 'one step forward, two steps back' scenario for Shanghai's inaugural season.
Either way, Geguri's inclusion in Shanghai's roster will bring with it a huge number of new fans, and a lot of Zarya highlights. Although the end results may vary, Geguri will certainly contribute to a much more dynamic and fun Overwatch League.