Tired of playing Melee with your friends? Try picking up a copy of Brawlhalla, the latest title from developers Blue Mammoth Games, a Georgia-based independent game studio. Brawlhalla is a free-to-play 2D platform fighter game where players compete in various modes with a cast of colorful characters called "legends." There are a variety of modes that players can chose from depending on whether they want to play competitively or casually. Brawlhalla had a booth at PAX East, and in addition to turning heads on the convention floor, Blue Mammoth Games hosted a small tournament during the event. I spoke with some of the game developers and a handful of Brawlhalla enthusiasts to learn more about how the fledgling fighting game is beginning to break into the esports industry.
Brawlhalla: From Beta to Beatdowns
Brawlhalla opened their Beta to the public in 2016 and Blue Mammoth Games have already hosted a major tournament with a prize pool of $50,000. Brawlhalla has its eyes on the prize, and they've clearly prioritized creating and maintaining a viable competitive scene. The combined prize pool totals from all Brawlhalla tournaments thus far amounts to a relatively sizable sum–just over $91,000.
It's easy to look at this number and think that it's small, and it is, but only if you compare it to huge games like CS:GO, Dota 2, and League of Legends, where million dollar tournaments are held on a regular basis. What makes Brawlhalla's prize pool so impressive is how rapidly the game cultivated a following after their Beta launch in 2016. What was it about Brawlhalla that attracted fans of the fighting game genre, and how was Brawlhalla able to draw such an impressive crowd despite being such a young game? I spoke with Zeke Sparkes from Blue Mammoth at PAX East, and his answer was simple: "We pour gasoline on the fire." While this is terrible life advice, it seems to be working in the gaming industry. Sparkes emphasized the importance of working closely with the community, and thanked the playerbase for helping the team improve Brawlhalla and quickly address major issues. This active developer-player relationship, explains Sparkes, is the secret behind Brawlhalla's success.
What did Brawlhalla's 'gasoline' look like at PAX East? Money. Blue Mammoth hosted a $1,000 prize pool tournament, and invited convention-goers to enter. Playing some Saturday afternoon video games in the hopes of winning a thousand dollars while attending PAX East? Not many would refuse a chance to take home a hefty chunk of change. Blue Mammoth Games confirmed that Brawlhalla's World Championship in Atlanta would be returning in 2017–the prize pool for this year's event would be double what it was last year.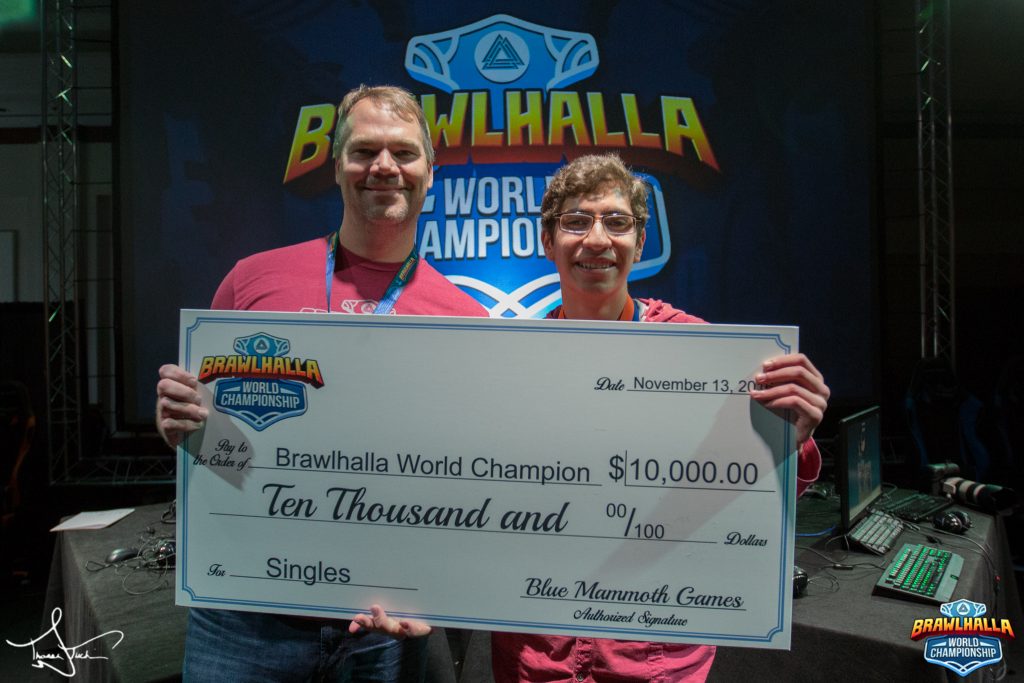 It's hard to critique any game that's recently come out of Beta, since you know full well that any of the issues or bugs you encounter might disappear tomorrow. Sometimes it feels like you're picking on a new game by highlighting its flaws.
Brawlhalla is different. The developers are eager to get feedback about their passion project, and take as much of it to heart as possible. They're still learning from fans and competitive players about how to improve the game. This hands-on approach to game development is refreshing–the friendly team at Blue Mammoth is receptive to feedback and are eager to address complaints from the community.
Blue Mammoth is ambitious, and they're already fostering relationships with organizations like C9 and TSM. It's smart planning for the future–once Brawlhalla's competitive scene hits its stride, sponsorships will already be lined up for players and teams. They're deeply invested in the success of the game, and I see no reason why Brawlhalla couldn't become a popular esports title. Of course, breaking into the fighting game genre isn't easy, especially when you're competing against industry staples like Smash and Street Fighter. But Blue Mammoth's focus on incorporating player feedback and developing relationships with the community sets them apart from other developers.
You can download Brawlhalla for free from Blue Mammoth Games or via Steam.