We're less than two weeks out from the biggest gaming event in North America. That's right, PAX East is just around the corner. Soon, Boston will be flooded with game enthusiasts from across the country, as well as plenty of international visitors. PAX East is all about getting to play new games, hearing about what's on the horizon for your favorite titles, and, of course, being surrounded by like-minded individuals.

The two week stretch before the convention is generally the time where companies (both large and small) start to hint at new releases, products. I've compiled a list of my must-sees for PAX East 2017, as well as some predictions about announcements that we're likely to see at the event.
Overwatch  (Blizzard)
Blizzard tweeted earlier Friday that a fictional attack occurred at the Numbani International Airport. Of course this set all Overwatch fans into a frenzy attempting to figure out who the new hero was. Our own writer Nate Russell wrote about his own predictions on the new hero. Last year, McCree and Zarya were the two new heroes who were the focal point at the Overwatch booth who had their own comic and promotional material at the booth. Similar to last year, I'm expecting that Blizzard will release a new hero at PAX East. I'm looking forward to checking out their booth–there's sure to be a surprise or two in store.
Quake Champions and The Elder Scrolls: Legends (Bethesda)
Bethesda is bringing three brand new titles to PAX East this year: Prey, Quake Champions, and The Elder Scrolls: Legends. Players at PAX East will be able to test their skills in 5v5 Quake battles, which is sure to be a popular attraction. The game echoes titles like Overwatch and Battleborn, but Bethesda's world is far darker, and emphasizes the fast, fluid, and energizing gameplay that defined previous Quake titles. Reviewers have said that Quake Champions has the potential to be the next esport contender, but it'll be a while before we see if it can meet these expectations.
The Elder Scrolls: Legends is a brand new game, slated for release later this year. It's a collectible card game based on the Elder Scrolls universe, featuring the heroes, creatures and lore that fans found in the series. It'll be interesting to see how Bethesda's digital card game will compete against the likes of Hearthstone, which has dominated the casual and competitive market for years. The game's toughest competition, however, might be Gwent, which we reviewed a beta copy of several months ago.
Switch (Nintendo)
Nintendo's Switch console will officially launch and be available for purchase on March 3rd, which means that this year's PAX East will most definitely see a large portion of the Nintendo booth dedicated to the new system. New Nintendo products have a habit of disappearing from shelves as soon as they're released, so PAX East is a fantastic opportunity for fans of the hardware to try it out for themselves, as well as learn more about Nintendo's plan for the product.
I'm eager to see what these large companies do at PAX this year, but I'm also really excited to see the attractions that they use to try and pull gamers towards their booths. Last year's giant 25ft tall Tyrannosaurus Rex at the ARK booth was not only the tallest object on the floor, but attendees could also ride the T-Rex and have their photos taken. Pretty cool, if I say so myself.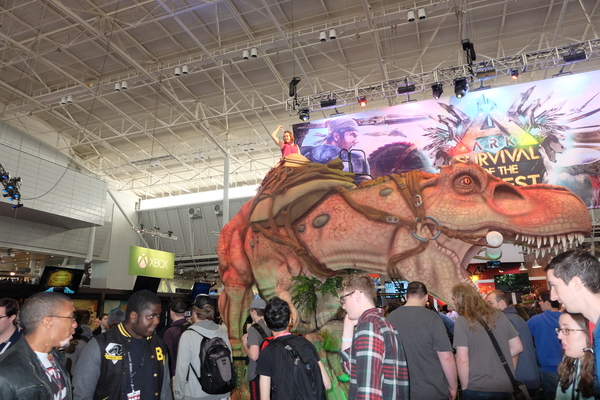 There's no shortage of games that will be previewed and demo'd at PAX East this year. In a sea of over 80,000 avid gamers, I'll be wading through the masses to learn more about your favorite games and talking to your favorite producers.  Even if you can't attend in person, be sure to be follow us on social media as we navigate PAX East this year. Let me know what games you'd like to hear about and what you're most excited to see at PAX East this year!
Gillian Linscott is a certified T-Rex climber, and you can follow her on Twitter for live updates about dinosaur attacks at PAX East.