The market for gaming hardware is booming. If you're a passionate gamer or diehard esports fan, there's no shortage of companies vying for your dollar. Plenty of these businesses are willing to sacrifice build quality in favor of larger advertising budgets or useless cosmetic features to attract the roaming eyes of teenagers with extra cash to spend.
The latest addition to the high-end peripheral market is Logitech G's Pro Keyboard. It's the second installment in Logitech G's Pro line, designed to compliment the gaming mouse which debuted last year. The Pro mouse was one of the most thoughtfully designed gaming products I've had the pleasure of using. I haven't unplugged the Pro since the first day I used it–as far as I'm concerned, it's the perfect mouse for gaming, work, and everyday computer use.
My ears perked up when I heard about the Pro Keyboard. I've tried a variety of different mechanical keyboards over the past three years, and even the best of the bunch came with significant downsides. The Corsair K70 was loud, and although it performed admirably in a gaming context, I detested using it for browsing the internet and doing work. Razer's Blackwidow was gaudy, and I was less than pleased with the knockoff switches they used.
Is the Logitech G Pro Keyboard worth buying? Will it fill the mechanical keyboard-sized hole in your heart?
Logitech G Pro Keyboard: Tech Specs and Features
Before I keep rambling, let's take a quick tour of what the Logitech G Pro Keyboard has to offer:
Romer-G Key Switches. This is Logitech's exclusive brand of switches, and these bad boys have an actuation point of 1.5mm. Romer-G switches transmit your input 25% faster than standard mechanical switches. For the purposes of comparison, keypresses on Romer-G switches register approximately 10ms faster than Razer's Blackwidow Chroma.
Detachable Cable. Instead of wrapping the cable around the keyboard like some sort of goddamn animal, you can unplug it. This helps reduce strain on the cable, increasing the lifespan of the keyboard.
Tenkeyless. That's right, they chopped off the numpad. I thought I'd miss it, but I didn't. The extra desk space is worth sacrificing the limited functionality of a numpad.
Customizable Lighting. You can customize the RGB lighting of every single key on the Logitech Pro, with a palette of 16.8 million colors to choose from. All of your lighting configurations can be saved to the onboard memory, if you're into that sort of thing.

Physical Specifications:

Dimensions (L x W x D): 153mm x 361mm x 34mm
Weight (without cable): 980g
Cable length: 6 feet
Romer-G: Switches So Good I'd Kill a Man For Them
If you've already made the upgrade from membrane to mechanical keyboard, then I don't need to tell you how much of a difference it makes. If you haven't, it's like night and day. That's why mechanical keyboards have such a cult following.
Logitech G have been using Romer-G switches in their flagship products for a while now, but this was the first time I'd had a chance to try them out for myself.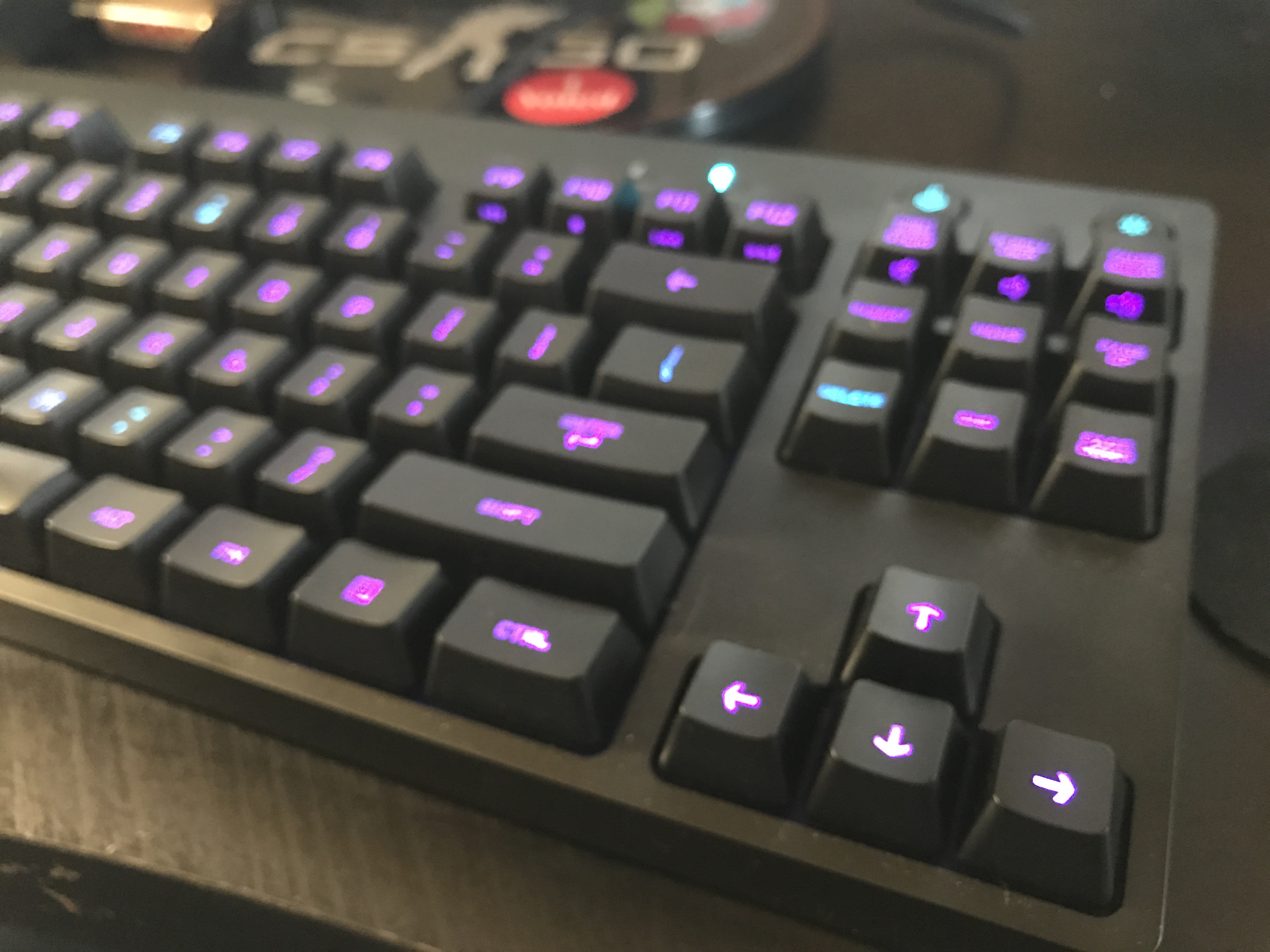 I don't care what kind of switches you use. Yes, Cherry is a great brand. They make great products. But if you want the best, then you want Romer-G switches. With Romer-G's at your fingertips, there are no accidental key presses. If you rest your fingers on certain keys while you game, then you've probably had this problem before–when it comes to games that require fast reflexes, it's easy to go full spaghetti in the heat of the moment and mistakenly whack the wrong key. And as someone who often goes full spaghetti, I was delighted to discover that the resistance of Romer-G switches is perfectly tuned to prevent these kinds of accidents.
If you live with other people, you'll be pleased to know that the Pro is unexpectedly quiet. The switches deliver a satisfying clack, but if you're a late night gamer and share a living space with other people, you're not going to wake them up.
Should I Buy It?
I've been a fan of Logitech's peripherals since I made the switch from console to PC gaming. Beyond the sheer durability of their products, which are capable of withstanding daily abuse from yours truly, Logitech builds hardware for adults.
In an industry filled with glowing peripherals that could easily be mistaken for tiny carnival rides, Logitech isn't afraid to design around the needs of power users.
As I racked up headshots in a deathmatch server, I fell into an old and familiar daydream. I'm on stage in Spodek Arena, and the crowd is chanting my name. Every frag elicits another cheer, and each is louder than the last.
It's a childish fantasy. I'm far beyond any delusions of becoming a professional gamer.
But there's something to be said for a keyboard that helps you fall into this trance-like state of mechanical superiority, where every shot is a crisp one-tap, every counter-strafe is perfect, and you hit every bunnyhop.
There's an old expression about "treating your sword as an extension of your arm." It's precisely this kind of uninterrupted connection between human and hardware that the Logitech G Pro Keyboard has to offer.
It might have a detachable cable, but I'm not planning on letting the Pro leave my desk anytime soon.
The Logitech G Pro Keyboard costs $129.99, and it's worth every penny.
Esports Edition was provided with a review unit by the manufacturer. As with all of our game and hardware reviews, our opinions are our own, and this article truthfully and accurately reflects our experiences with the product. Please review our Ethics Policy for more information.