If you want to see the best match of Worlds 2016, don't bother looking towards the grand finals. Instead, tune in on October 21 to see the top bracket semifinals; it'll feature two of the top four teams at Worlds (unless you had TSM ranked up there). Hopefully this is the last time we have randomized brackets, because having SK Telecom T1, Royal Never Give Up, ROX Tigers, and Edward Gaming on one side of an elimination bracket is ridiculous. So who's on the other end?
Aside from Samsung Galaxy, the remainder of quarterfinal teams are hardly considered top tier. Out of the easiest overall bracket, Cloud9 emerged as the #2 seed, while H2K and Albus NoX Luna upset their groups to qualify. In particular, ANX's qualification was no doubt a sign more of their group-mates choking. The tie-breaker match with ROX was probably a better indicator of where ANX actually lies, falling in a 30 minute stomp.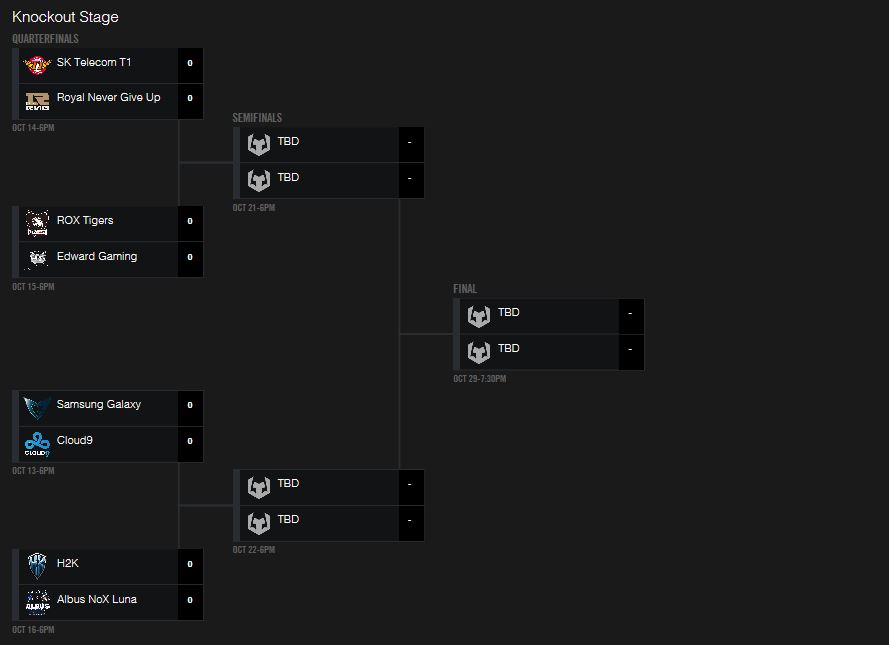 And yet, one of these four teams will be in the Worlds 2016 finals, not a single #1 regional seed among them. Even Albus NoX was second place coming out of the Wildcard spots.
Where are the stars in the Worlds 2016 Finals?
Even withholding judgement on the actual skill level of these four teams, you have to admit there's a lack of star power. H2K's Forgiven and Cloud9's Impact are probably the only mechanical gods remaining among these 20 players. If you're looking for insanely dynamic team fights with outplays you couldn't imagine, the finals probably won't have them and the bottom-side semifinals definitely won't.
On the contrary, let's take a look at some of the names on the top half of the bracket: Uzi, Mata, Smeb, Clearlove, Bang, Pray, Gorilla, Scout, Pawn, Bengi, and of course, Faker. Every single one of these players is a legitimate superstar, a 'front pager' for a hypothetical Esports Illustrated. Of course, to see them match up against one another is any League of Legends fan's dream.
But don't you think it should be reserved for the finals?