The ugly debate that has plagued eSports since the inception of the LCS: are professional gamers considered 'athletes'? They may not be physically gifted like Lebron James or Ronda Rousey, but their mental acuity and ability to read and react is second to none. With the structure of the LCS giving off the feel of a professional sports league, most easily compared to the NBA, the discussion seems to never end. Some talk show hosts will dismiss League of Legends as 'just a game' and call the competitors nerds solely because they have no interest in learning about eSports and what is required of someone to compete on a level such as the LCS. But then there is Rick Fox, the new owner of Gravity Gaming, which will be rebranded to 'Echo Fox'.
For those who are unaware, Rick Fox is a former professional basketball player who won three consecutive championships with the LA Lakers, alongside future hall of famers Kobe Bryant and Shaquille O'Neal. Why is this important? Because he knows a thing or two about competition at the highest possible level, and respects all kinds of people who have the drive and dedication to be a part of their respective upper echelon. But even more then that, he's a former professional athlete who believes that professional gamers are just as much an athlete as he is, enough so to drop a cool $1 million USD on a team to call his own.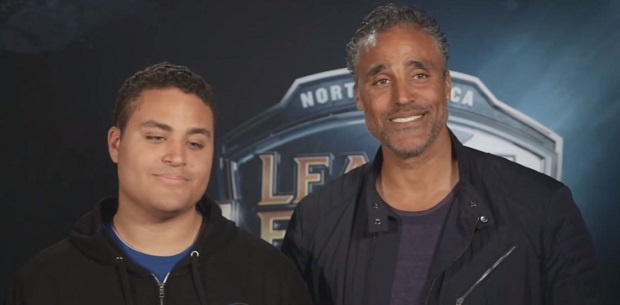 If an athlete of Fox's calibre can accept the fact that these teenagers are similar to him and his teammates, why can't others? Fox has made multiple talk show appearances with the intent of talking about the emergence of eSports and the talent of the those who compete in the leagues. I say intent because the majority of the time he is rudely interrupted, scoffed at and not given a chance to explain the appeal of eSports in terms of entertainment. This is because the hosts refuse to believe that kids playing video games deserve the attention they've been receiving, from sponsorships to TV air time. The pro players in the LCS make salaries, get sponsored by numerous companies and have massive fan bases. This sounds a lot like professional basketball players to me, but if you're not convinced, I have a few more similarities…
Training
To even be considered good enough for the LCS, you need to log some serious hours on the game. A lot of them. Enough hours that you know what your opponent is going to do before they even know it. This could take years to get to this level; you can't just pick up the game and be able to compete at a professional level. Just like how Faker can't go pick up a basketball, dribble it around for a few minutes and get drafted 1st overall into the NBA, Steph Curry can't grab a mouse and keyboard, play a Co-op vs AI game and get offered a starting spot on SKT T1. Both of these activities require almost endless amounts of practice, and even when you've made it, you need to continue improving or get left behind. When they aren't playing, the Golden State Warriors are in the gym practicing to make sure they maintain their competitive edge over the rest of the league. LCS players do this too, but practice for a lot longer. We're talking 50 hours a week, minimum. Although NBA training is shorter and more physically intensive, LCS training is extremely long and equally mentally taxing.
Structure
 Let's talk about the similarities in the structure of a League of Legends team and an NBA team. They both have 5 players. Each of these players fills a specific position. Each of these players has a matchup on the opposing team that they are trying to prevent from impacting the game. When you help out your teammates you get an assist. If you aren't aware of what's going on everywhere around you, you are a liability. You wear shoes. You can get dunked on. I digress. There seem to be more similarities than differences, but there's one word that people always bring up when it comes comparing the LCS and the NBA…
Athlete
According to dictionary.com, an athlete is "a person trained or gifted in exercises or contests involving physical agility, stamina, or strength; a participant in a sport, exercise, or game requiring physical skill". So, by the dictionary's definition of athlete, League of Legends players are not athletes. This also leads to people saying League of Legends is not a sport, its a competition or contest, like chess. Here's a fun fact about the word athlete: it comes from the Greek word athlētēs, which translates to "a person who competes in a contest". Hmm. Seems like it fits pretty well to me. So why are some people so adamant that eSports be a separate entity from traditional sports? Is it because they don't understand the game and have no interest in learning? Why do they care what its classified as?
Sports were just created as a form of entertainment, and that's exactly what eSports do; they entertain. Rick Fox sees this. He understand the time, commitment and effort these players put in to entertain their fans and satisfy their thirst for competition. He wants other people to understand that though these gamers may not be the most physically gifted competitors, they more than make up for it with their impressive ability to read, analyze, plan and react. Hopefully Fox's purchase will turn some heads and show people there doesn't have to be a barrier between the two games. I dream of the day that I can watch consecutive highlight packages of Blake Griffin dunking over a 7-footer and Darius dunking a Vayne, and Fox might just be making that a possibility.
Bravo Rick Fox, and goodluck to Echo Fox in the upcoming NA LCS Spring split!