There will be no LCS action this week. Instead, we will have our first glimpse at international League of Legends since IEM Cologne took place at the end of last year. IEM Katowice 2016 features 2 groups of 4 teams; each from a different region, playing a double elimination best of 1. Seeing the different regions compete against each other will provide an idea as to which region is the strongest early in season six.
Here's how the participating groups are divided: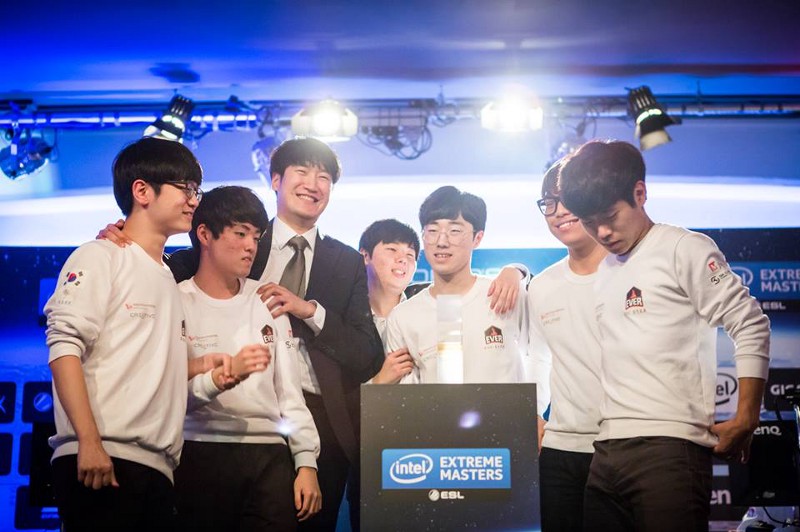 Group A
ESC Ever (Challengers KR)
Top: Jae-hee "Crazy" Kim
Jungle: Min-kwon "Ares" Kim | Jun-seok "Ryan" Lee
Mid: Myung-gu "Tempt" Kang
AD Carry: Dong-wook "LoKeN" Lee
Support: Han-gi "KeY" Kim | Jong-seop "Totoro" Eun
Origen (EU LCS)
Top: Paul "SoaZ" Boyer
Jungle: Maurice "Amazing" Stückenschneider
Mid: Tristan "PowerOfEvil" Schrage
AD Carry: Jesper "Zven" Svenningsen
Support: Alfonso "Mithy" Aguirre Rodriguez
Royal Never Give Up (LPL)
Top: Jun-ze "LetMe" Yan | Hyeong-seok "Looper" Jang
Jungle: Shi-yu "mlxg" Liu | In-seok "InSec" Choi
Mid: Yuan-hao "xiaohu" Li | Xiang-yi "Sask" Zhou
AD Carry: Wang "wuxx" Wang Cheng | Jia-wen "NaMei" Zhu
Support: Le "Ley" Li | Se-hyoung "Mata" Cho
TSM (NA LCS)
Top: Kevin "Hauntzer" Yarnell
Jungle: Dennis "Svenskeren" Johnsen
Mid: Søren "Bjergsen" Bjerg
AD Carry: Yiliang "Doublelift" Peng
Support: Bora "Yellowstar" Kim
Group B
SK Telecom T1 (LCK)
Top: Ho-seong "Duke" Lee
Jungle: Seong-ung "Bengi" Bae | Sun-gu "Blank" Kang
Mid: Sang-hyeok "Faker" Lee
AD Carry: Jun-sik "Bang" Bae
Support: Jae-wan "Wolf" Lee
Fnatic (EU LCS)
Top: Yeong-jin "Gamsu" Noh
Jungle: Da-yun "Spirit" Lee
Mid: Fabian "Febiven" Diepstraten
AD Carry: Martin "Rekkles" Larsson
Support: Johan "Klaj" Olsson
Qiao Gu Reapers (LPL)
Top: Bao "V" Bo
Jungle: Dae-hoon "Swift" Baek
Mid: Tae-sang "DoinB" Kim | Yeong-hoon "Borisal" Kim
AD Carry: Yu "Peco" Rui | Zihao "Uzi" Jian
Support: Zhang "Mor" Hong-Wei
Counter Logic Gaming (NA LCS)
Top: Darshan "Darshan" Upadhyaya
Jungle: Jake "Xmithie" Puchero
Mid: Jae-Hyun "Huhi" Choi
AD Carry: Trevor "Stixxay" Hayes
Support: Zaqueri "aphromoo" Black
LCS Teams Will Need Upset to Escape Groups
There are a lot of talented teams showing up to IEM Katowice 2016 to compete for the $100,000 prize pool. Group A features Korean challenger team ESC Ever, who won the most recent IEM tournament in Cologne, and leader of LPL group B, Royal Never Give Up. LCS teams TSM and OG certainly have their hands full in this group. Both TSM and OG have failed to perform up to expectations in the 2016 spring split. If they aren't able to shape up soon, IEM Katowice may turn out be only a learning experience for the two underdog teams.
CLG and Fnatic fans can be a little more optimistic in group B. The two LCS teams will face off against SK T1 and Qiao Gu, respectively. Although normally having to play SK T1 would be a death sentence for CLG, Faker and his team mates have been struggling to carry over their previous seasons success into 2016. If there was ever a time for CLG to beat SK T1, it's now. Fnatic, yet another team trying to find its footing, will face Qiao Gu Reapers; the Chinese team that finished second at IEM Cologne, losing 3-2 to ESC Ever after taking down Fnatic 2-1 in the semi-finals. Fnatic will get a second chance to take down Qiao Gu Reapers in a match that will decide who moves on to play the winner of CLG/SKT1.
Regardless of the difficult group stage match ups, it's always fun to have these international events. Teams always leave these events with restored motivations, and good idea what to expect at MSI.
IEM Katowice 2016 begins Friday, March 4th. The first match of the tournament is ESC versus TSM at 6:30am EST.