By far, Heroes of the Storm is one of the hardest esports to keep up with. It's not because there's too much going on or a whole lot to follow like League of Legends esports, but rather because the resources are spread out and difficult to find. It's a problem that's plagued the game since its infancy during open beta and in some ways stifled its growth. Without a central hub of information, viewership can't reach its maximum potential.
In any case, I'm here to share some of the best sources of information so that you can follow along too. Qualifiers, roster changes, and community events have always been there; now you can join into the community and follow the scene as well!
General Information
First thing's first. You probably need a way to keep up with the game as a whole. The Heroes of the Storm Battle.net site will hook you up with all of the latest news and videos. In addition, you can peruse some handy resources like the regional leaderboards, a full catalog of the Heroes, and community forums.
If you don't follow the competitive scene much but still play Heroes of the Storm often, this is a great resource to check up on patch notes, skins in development, and weekly sales on their Battle.net site.
Twitter users can also follow the game's official Twitter account for updates on basically anything happening in the game, whether it be the release of a new Hero or the announcement of an ongoing tournament.
Unfortunately, Blizzard can't keep up with everything going on in the community or the professional scene. That's where the subreddit comes in. Let's face it—sometimes we just love gossip, cool gifs, and drama. Sometimes members will announce tournaments or community projects too.
Esports News and Updates
If it's information on competitive play that you're looking for, Blizzard's esports site is the perfect resource for quick information. Tournament announcements—locations, dates, and schedules—can be found here along with previews/recaps and even weekly updates. This is your primary source of information for all premier tournaments in the Heroes Global Championship. For quick updates, you can also follow the Heroes Esports Twitter.
Tournament Brackets and Schedules
There are several places to look for those sorts of things, but the two tried-and-true destinations are Team Liquid's super database, Liquipedia, and the GosuGamers database. Both hold information for practically every tournament, including plenty of VoDs.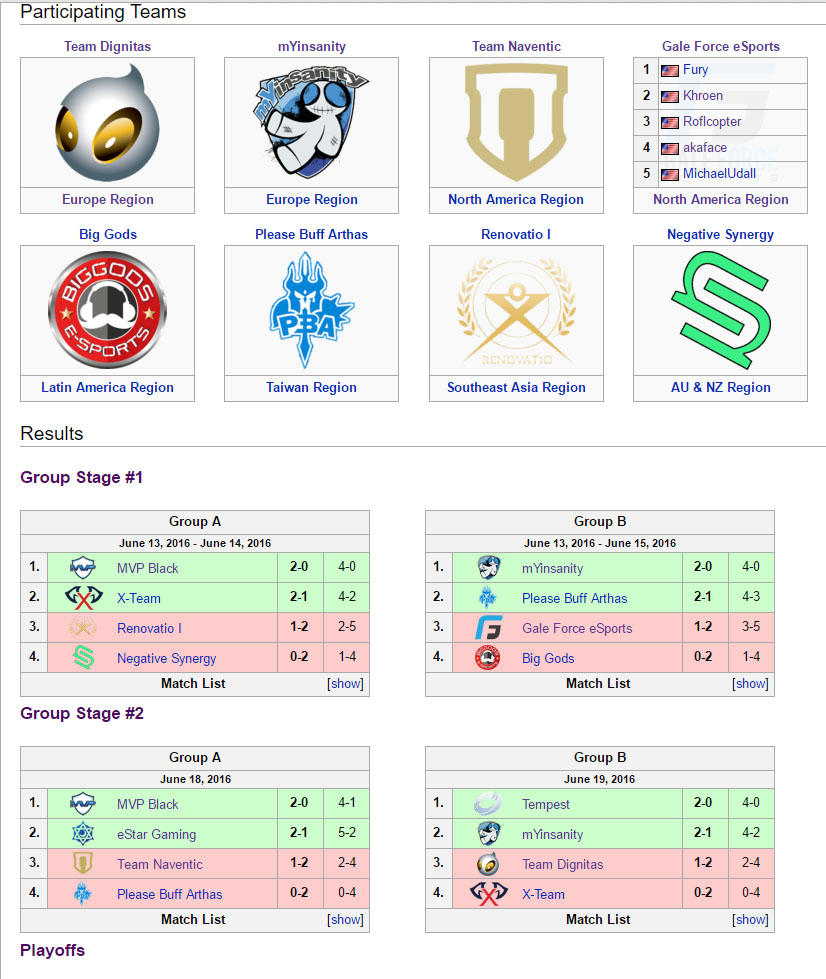 You can also look up other resources on those sites. Liquipedia has a plethora of in-depth information on teams, players, and even casters. If you want to know the history of a team and all of their achievements, it's very easy to find! GosuGamers offers a few other choices like overall rankings, a list of notable streams, and even replays to download. Between the two, you should be able to find almost any information on the pro scene you need.
Community Resources
There is a vibrant community surrounding Heroes of the Storm just like any other game. Sometimes it can be difficult to find others interested in the same things, especially if you're new to the game. Luckily, I know some of the best places to look.
Obviously, Reddit is the largest and most easily accessible community. But there are still quite a few small, close-knit communities. My favorites include the TeamLiquid.net forums and KendricSwissh's Discord server.
The community forums at Team Liquid are a great place to access some community resources and chat with some knowledgeable, intelligent people about the state of the game. Meanwhile, KendricSwissh's Discord server offers you a chance to be a part of the "Swissh Family". You can chat with people, make some friends, and play some fun games; everyone on the server is a quality person and fun to be around.
Many other casters/streamers/players also have their own Discord servers which they use to communicate with viewers. If there's a particular streamer you enjoy watching, check to see if they have a Discord server; you might find yourself an excellent group of friends that way.
Streams to Know
There are many many streams out there for Heroes of the Storm. League of Legends was centralized under Riot a long time ago, but pro resources can be a bit harder to find here. Here is a list of sources to follow for every region as well as a few top streamers. This list is by no means extensive, but hopefully it can serve as a guideline for you as a new viewer in the game!
Professional Scene:
Notable Heroes streamers/casters:
Grubby
Kendricswissh
Gillyweed
Wolf
Khaldor
HappyZerg
Kaelaris
Tetcher
Dreadnaught
Dunktrain
Pallytime
Hopefully this article helps you as begin your navigate your way through Heroes of the Storm! Welcome!