From joke to meta, Silence Priest has climbed the ranks quite handily. This guide is based off of a decklist and notes provided by a Hearthstone player named BDBRINGA, who hit rank one legend with his Silence Priest deck. BDBRINGA's post can be found here, and we'll be using his list as the starting point for this guide. Silence Priest is a deck built around using spells efficiently to create massive minions. The deck can be draw dependant, but if you're looking for a strong deck that requires high player skill to execute successfully, Silence Priest is the deck for you.
Silence Priest Decklist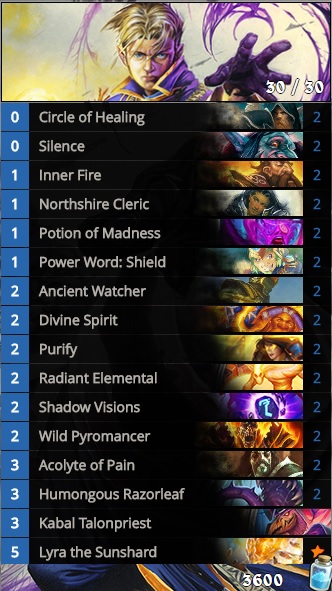 As I said, this list is from BDBRINGA. Honestly I wouldn't change much. This isn't an expensive list, and it functions well. There aren't any obvious absences, nor anything I want to sub in. As always, you should conduct your own experiments and make alterations as you see fit, but this list is undeniably effective at doing what it does.
Silence Priest Playstyle
The playstyle for Silence Priest is far different from most decks. You don't want to just play your cards and hope for the best. Every card in your deck serves a purpose, and has an optimal time to be played. If you're against an aggro deck, you'll have to play less optimally and throw out your cards. However, if you're squaring off against a control deck, you can take your time and get optimal value out of your cards. In most cases, you won't even want to play your Northshire on turn one, unless you have an obvious follow-up play. It's often smart to save the card for more draw value later. The optimal play in most cases for this deck is waiting until you have your pieces and playing the combo. This deck has quite a few different combos to choose from, so, thankfully, you won't have to wait long.
The overarching strategy of Silence Priest revolves around silencing, as the deck name might suggest. You want to get out Ancient Watcher or Humongous Razorleaf, and silence them. Playing a three mana 4/8 that can start attacking the next turn is crazy, and combo-ing it with additional health and Inner Fire ends the game on the spot. Part of what makes the deck so good is how it makes use of the Inner Fire combo, but the deck doesn't always need Inner Fire to be successful.
The other combo this deck relies on is the Lyra combo. You're running lots of low cost spells, as well as two Radiant Elementals. If you can get Lyra out with one, or even both of the Elementals, it's possible to chain a ton of spells. Priest spells in general are incredibly cheap, so you'll likely be able to chain quite a few. With a deck that works so well with a majority of Priest spells, this can be game-winning. Imagine playing several Power Word: Shields, Divine Spirits, and an Inner Fire. Honestly, the combo potential alone is enough to make this deck a winner in my book.
Silence Priest Matchups
As with many control decks, Silence Priest fares best against midrange and other control decks. It can hold its own against aggressive decks, but they are also clearly its weak point. Wild Pyromancer is your saving grace against minion based aggressive decks. Aggro Druid is one of your best matchups in that regard, because one Pyro play can easily swing the game. Unfortunately, the same cannot be said about Pirate Warrior or Quest Rogue. You can't really interact with their minions, and you don't have much taunt or healing. You pretty much have to hope to go off before they kill you.
As for control decks, you'll have the upper hand with Silence Priest. You can set up big combos with Potion of Madness, or just go for value with Lyra. You have quite a few combos, make use of them and you should have the upper hand.