This isn't the first time, and it hopefully won't be the last, but Hearthstone's viewership is plummeting. Again. Hearthstone, as you're probably aware, is a digital card game. And yet, somehow, it receives less frequent updates than actual physical card games. The burnout on new Hearthstone content happens quickly, and yet the content is essentially slower each release.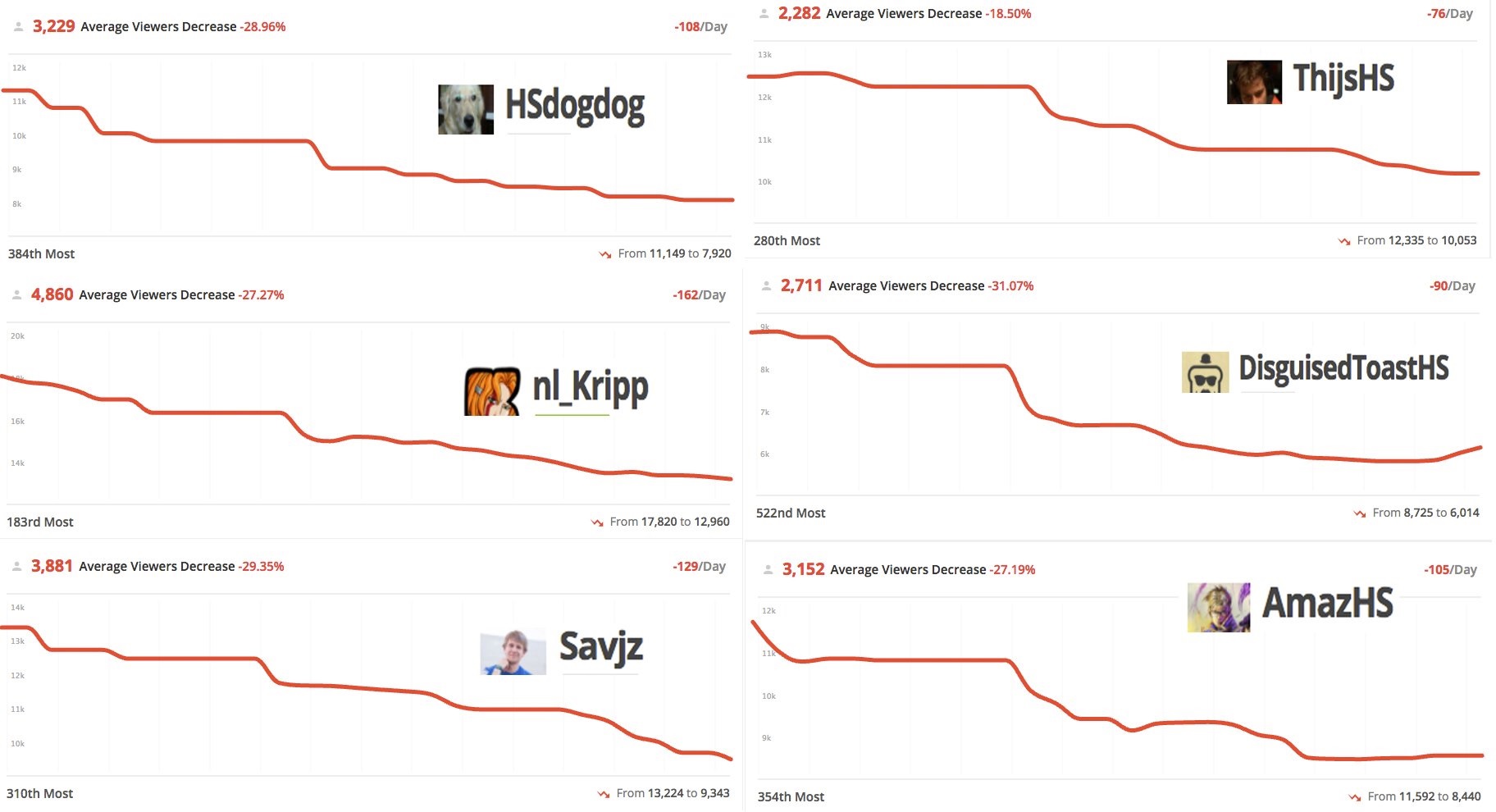 This graphic was tweeted by Hafu, and it shows the number of Twitch viewers who tuned into Hearthstone streams over the past month. It's clear that every one of the top streamers has lost a massive number of viewers. They certainly aren't all doing something wrong, and it has far more to do with the current state of the game.
Burnout and Content Consumption in Hearthstone
The largest problem with Hearthstone when you compare it to physical card games is the rate of content consumption. Magic: the Gathering is still running strong after 20+ years and has over 12 million players around the world. Magic puts out a large release every three months, for a total of four every year. By comparison, Hearthstone puts out new content once every four months, for a total of three a year. Not a huge difference, but these differences matter. After all, the current decline in Hearthstone viewership we're seeing has happened over the span of a single month. With an additional expansion each year, the wait might be more bearable for players.
But that's not even close to the biggest issue, and throwing more content at Hearthstone and hoping something sticks isn't going to remedy the situation. Ultimately, it all comes down to the methods of content consumption in Hearthstone. When you play Magic, you have to get together with friends or go to a tournament. The average Magic player actually plays the game on a fairly infrequent basis. Hearthstone, on the other hand, is a click away, and you can even play on your smartphone. You want to play a game? You play a game. It's easy to rack up a ton of hours in Hearthstone without ever leaving your room. This starts to be a serious problem when the limited amount of content that is being released gets devoured en masse. The burnout is real, and it happens fast.
There's also the issue of card collection. As much as we complain about how expensive Hearthstone is, it's still a much cheaper game than Magic and many other physical card games. Magic expansions aren't just more frequent, they also contain more cards than the average Hearthstone release. For a given Magic release, most players will only be attaining a fraction of the content. This is mostly fine, because unlike Hearthstone, you can be competitive in Magic without owning every card from a new release.
One of the underlying issues with all this is that in Hearthstone, players open all their packs in a couple hours. We craft the cards we're missing, and suddenly we have every card we wanted. There's none of "the hunt" that you get in Magic–if you want a card, you don't have to actually have to find someone who owns it and arrange a trade. Without trading, you can't save money by building your collection through clever exchanges with other players, and this is yet another reason why the lifespan of Hearthstone expansions is growing shorter and shorter.
Will Hearthstone Viewership Recover?
The biggest and easiest solution to the burnout is to have regular balancing. Over the course of Hearthstone's history, balance patches have been less frequent than content drops. This is a massive problem, obviously, and the developers should take a step back and let that statistic sink in. All it would really take is consistent balance patches, once every month or two, to keep the game feeling fresh.
If caring about the balance of their "competitive" game isn't an option, there are other ways Blizzard could handle the public's waning interest in Hearthstone. Give us smaller content releases, but do it more frequently. Bring back adventures, take one of the expansions off the calendar, and Blizzard would be able to focus on delivering two quality expansions and two adventures each year. This approach would also make the game more affordable for many players, which probably is against official Blizzard policy, but the point stands.
Blizzard could also encourage more players to spend time with the Standard and Wild formats. Currently, you only receive seasonal rewards for your highest rank, so there's no incentive to play multiple formats. Allowing you to get rewards from both would push people to spend more time with the game's already existing current, especially hardcore players, who already grind to legend on a regular basis anyways.
Really, any change will do. The numbers don't lie, Hearthstone is in decline. And I know it goes through cycles of decline after each expansion, but this one happened faster than myself or anyone expected. And really, a game like this shouldn't even go through "cycles." Give us consistent content, Blizzard, and you won't have to worry about the decline every few months.