As an esports writer, I need to have an app for my smartphone that's not only up to date on matches, but offers a variety of resources, including historical data, for me to peruse as needed. You've probably heard of theScore esports, but are there any better options out there? I've spent the past month trying out different esports apps, and I've found two new additions for my smartphone—Strafe and Blitz—that fit my needs perfectly.
Esports App #1: Strafe
When I first found this app, I was actually somewhat surprised that I hadn't heard anything about it previously. Strafe was number four on Google's list of esports apps and lacked any reviews, but I was desperate. It's been a couple of weeks since I downloaded Strafe and it's remained my top esport app to use on the go.
The best part about Strafe is that it's simple to use. Each calendar day lists all ongoing tournaments, with each event separated into times rather than categories. Other apps often have different categories that you need to chose to see the times of the matches. In Stafe, each match is displayed at the time the match starts.
Sounds functional, right?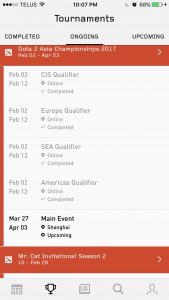 Strafe also has a tournament page which displays the dates of each stage in the tournament and highlights the parts of the event that have yet to transpire. For example: the Dota 2 Asia Championships 2017 page currently shows me that the Qualifiers are completed and that the Main Event has yet to start. I cannot tell you how practical and helpful this is. When I was starting my career as an esports journalist, I'd waste far too much time looking up tournament dates and times only to find myself doing the research again later to make sure the information was still correct. It wasn't efficient, to say the least.
Another extremely helpful aspect of this app is their news feed. Unlike other apps, Strafe displays news from a variety of sources. The top current news feed is from Twitter and the second is from GOSU Gamers. It's refreshing to see that a company recognizes the importance of displaying news from across the net instead of only the news their journalists cover.
Stafe is, without question, my top pick for the best esports app out there. It's easy to use, and the way that it simplifies tournament data into a compact and accessible list is an absolute godsend. While it doesn't have an intricate game overview like theScore esports app, Stafe provides users with uncluttered, up-to-date match information. The basic functionality of Strafe is undeniable, and it's a true pleasure to use.
You can download Strafe here.
Esports App #2: Blitz
Blitz is a really innovative and helpful app for League of Legends fans. It has a similar layout to Strafe, but since the scope of the app is limited to League, Blitz lacks the multi-esport functionality of alternative apps. That being said, there are lots things that draw me towards this app. Blitz has a similar news feed to Strafe, including an all-inclusive feed that shows users articles from around the web. Much like Strafe, there's also a event calendar to help you see what time each match is starting on any given day.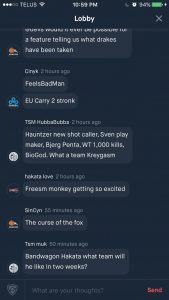 The best feature of this esports app is the Lobby, a chat room where users can converse with other users about their favorite games, teams, and drama. It really surprised me how docile and informative this lobby was in comparison to the anarchic toxicity of, for instance, Twitch chat. Anonymous users in an internet chat room? You're expecting dank memes and racism, right? Well, too bad. This safe space might be due to how new Blitz is but I have hope.
I have no issues with Blitz besides the singular focus on League, but that's the market they're catering towards–instead of trying to be involved in every mainstream esport, the developers of Blitz are focused on perfecting the details. If you're a League of Legends fan and need an esports app, I'd download Blitz. (Click here.)
Esports App #3: theScore esports
You're probably curious about why I haven't mentioned the App Store's number one suggestion and top-rated esport app. Now, theScore esports app seems like a reasonable pick for best esports app. I won't lie—I used it for a while and thought it was decent.
But here's the thing. Even with their massive ad budget, theScore is a far from perfect esports app. Why would I want an app that doesn't display all of my upcoming matches in one convenient spot? It might have to do with the fact that theScore was one of the first esports apps of this magnitude, but the developers aren't implementing enough features to keep users around–in other words, it feels like they could be doing more. With the exception of having a real-time map with positions of players and an accessible link to Twitch, it doesn't offer anything I can't find somewhere else.
There's also the small issue of announcing the winners before the match is complete.
https://twitter.com/bluemoonGG_/status/827912269283594244
What app do you use to keep up to date with your favorite esports? Is your esports app of choice missing from my list? Let me know what you think on Twitter!