Every year The International competition is more intense, more competitive. Players have been noticing this. This year was no different. We saw PSG.LGD make a surprise run for the Aegis. They dominated the group stage to reach the upper bracket.
EG's Time
The tournament favorites, Virtus Pro, would fall to PSG.LGD, a China-based team that is backed by the Paris soccer powerhouse Paris Saint Germain. Along with PSG.LGD, dominating the group stage was Evil Geniuses (EG). It looked like it was EG's year to win. Going nearly undefeated in the group stage, Sumail looked to be playing a pub match against me. That was until they came up against OG.
These two teams became bitter rivals when Fly and S4 left unexpectedly from OG to join EG right before The International, causing EG and OG to both go through qualifiers. What was most surprising was how close Fly and Big Daddy NOTail, the captain of OG, seemed to be. Not a single person saw it coming.
The 2017 season saw OG go through one of its most successful runs, with NOTail and Fly winning every major on OG, yet coming up short in The International 7. All of this led to a first round upper bracket face off between OG and EG. A screenwriter could not have done a better job writing the events that unfolded. With OG having a terrible performance in the group stage, EG was the heavy favorite to win. OG was able to pull off a stunning comeback in game three and gain the victory, which can be summed up in one photo of N0tail shaking Fly's hand after his victory.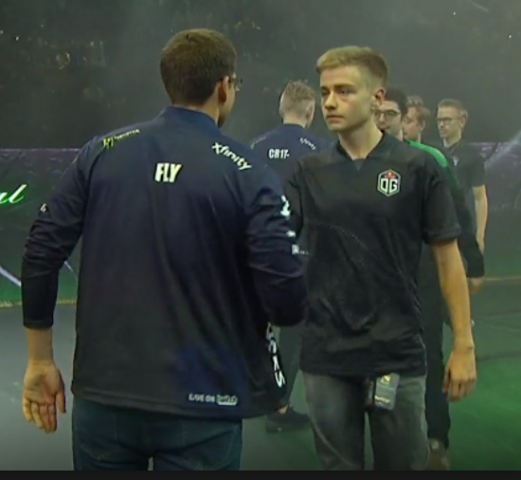 OG's Time
OG then faced off against PSG.LGD, and what a best of three it was. These two teams are arguably the best at what they do. PSG.LGD taking control early and rarely stepping off the gas. OG being patient and waiting to capitalize. The massive comeback victory in game three by OG is a shoo-in for top play TI8.
The loss for PSG.LGD led to a face-off in the lower bracket against EG. PSG.LGD showed a dominant display of teamwork and coordination, showing that a one-man Sumail team cannot win the world's top DOTA 2 tournament.
The Final
It was PSG.LGD looking for redemption against OG in the best of five finals. Game one would not go their way. Fighting against a JerAx Earthshaker that made plays provided the foundation for OG's domination. JerAx's Earthshaker was also one of the main reasons for OG's comeback victory against PSG.LGD during their first match-up. PSG.LGD did not allow JerAx to draft Earthshaker again.
Game two and three went to PSG.LGD in easy fashion. The fourth game was a hard fought battle; there was back and forth between both teams, yet OG came out as the victor to tie the series up at 2-2. TI8 was getting a fifth and final match, winner takes all. Bring your A game, leave nothing behind, play 110%, trust in your team… or just N0tail
Game 5
An entire article could be written here on how to lose a DOTA 2 Game when you are winning. So take note on the few points mentioned. First when dominating early and often, keep doing what you are doing. Decide to stop doing whatever it was that had you winning the game and you suddenly start to lose. PSG.LGD dominated the early to mid game. At one point they had an 8k net worth advantage and it did not look like they were going to stop. Then one Roshan fight changed it all.
PSG.LGD was caught out as OG went for a Roshan kill. OG won the initial fight with a few dead for PSG.LGD. One fight doesn't cost you a game. Losing one fight in a DOTA 2 Match when you are so far ahead does not typically lose you a game. What loses you a DOTA 2 Match when you are so far ahead? Two uncoordinated fights not on your terms, combined with losing all your lives twice. Here's what happened. PSG.LGD lost the first fight, bought back immediately and then had poor coordination. Because PSG.LGD expended everything to kill the enemy carry, when the enemy carry bought back into the fight he had his entire team for support and was able to wipe them out again.
OG was propelled into the lead at that point and they maintained their composure to grind PSG.LGD under their heel. It was PSG.LGD's game to lose, and they did. OG earned another stunning come-from-behind victory in the fifth game of TI8 Finals.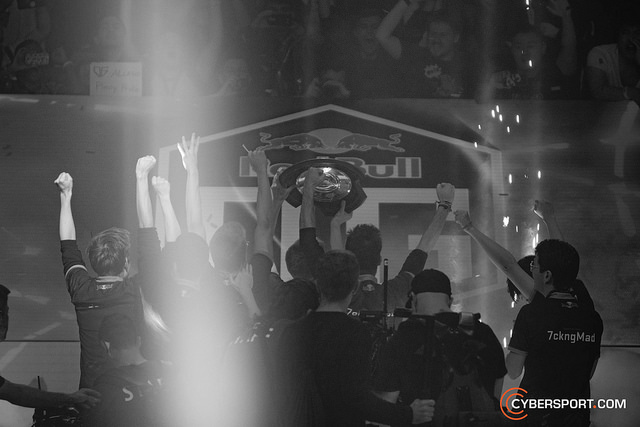 OG
OG can finally add TI to their title. Their team consisted of N0Tail, 7ckingMad, JerAx, ana and Topson. ana was a returning roster player while this was Topson's first major LAN event. OG walked away with $11 million, despite losing two of their core players before the tournament, one of which is possibly the best offlaner in DOTA 2, S4. But they signed ana and Topson, and then drew deep and never said die.
Next Year's International
The International lifted up its roots this year from Seattle and became true to its name, becoming a truly international event by hosting in another country. It seems like the trend will continue for TI9, as the Mercedes-Benz Arena in Shanghai will host. Pack your bags DOTA 2, maybe they will throw a free car in?