The Boston Major qualifiers were recently announced, and it's time to start speculating on invites. The post-TI6 roster shuffle was pretty bloody, and team compositions have changed a lot among likely invite candidates.
From Valve's blog post on the Manila invites:
"…We try to always invite the teams that we think have demonstrated their ability to perform well, either from very strong recent results or from a longer history of top finishes. We also think it's very important for the ecosystem as a whole if third-party LAN tournaments during the year are able to have a lasting impact on the Major invites, rather than largely depending on qualifiers."
Total Number of Teams Directly Invited to Previous Majors:
Frankfurt: 8
Shanghai: 8
Manila: 12
TI6: 6
Based off this data, eight invites seems likely, unless Valve are going to follow the trend set by TI6. So we'll plan for eight invites, with two teams at the bottom likely to be cut if Valve goes austerity-mode again.
If you want to see the invites broken down with math stuff, Scantzor has a really excellent piece you can read here. Personally I suspect that Valve's invite system isn't pure statistics, though.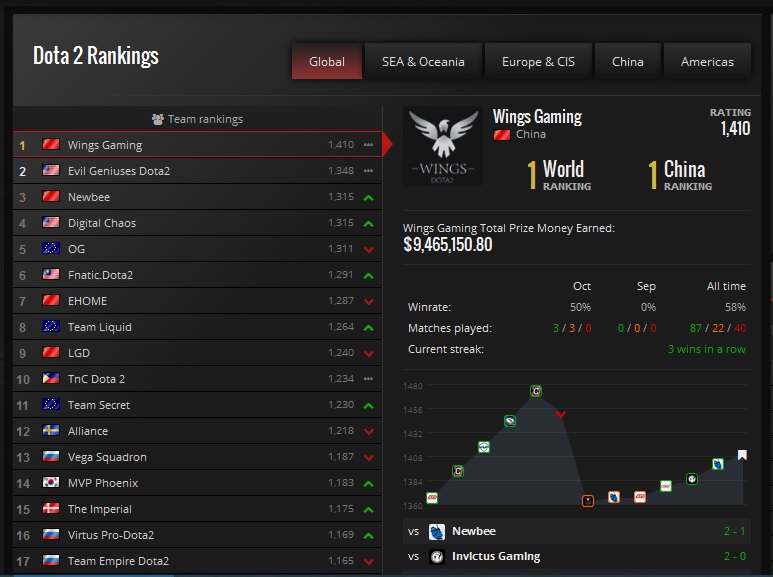 So who is getting the Boston Major Invites?
I'd say chances are Wings, EG, and DC are definite. Top 3 at TI6 means a lot, and while EG and DC changed players, less than half of the roster was changed in both cases. The new players on each team also came from top teams, so it's unlikely to affect their candidacy.
Next tier is a little more uncertain. OG will probably be invited – they won 2 of last year's majors. On the other hand, they have also made roster changes (swapping 3 players). Ana is totally new to competitive gaming. I personally think they're still deserving of an invite though. From China, it seems like Newbee is also in the uncertain-but-likely tier. Newbee's ranked high by elo rating, and they had some solid results last year to boast about.
Let's talk about Liquid. Oh Liquid, so many of us predicted that you would win TI6. Liquid kinda tanked at TI6 and have yet to prove themselves worthy again. They were just 2-0ed by NP earlier and it's not looking great for their invite status.
Mostly I just wanted to link this because my boys Envy and Aui are back on the map, stylin' on teams with Batrider. Yay, it's 2014 again. 
That leaves us with some interesting leftovers: Secret, and most of the SEA region. Secret snatched up 3 players from SEA team MVP.Phoenix. I think that move alone removed MVP's chance at a direct invite and probably bolstered Secret up. Secret may even be invited over a team like Liquid, as their TI performance was a little better and the MVP.Phoenix players were Top 6 finishers. The recent EternalEnvy blog accusing Secret's owner and Puppey of witholding money and some other shady business practices is unlikely to damage Secret's chances at an invite. It seems like (and rightfully so) that Valve won't not invite a team unless shady allegations can be turned into facts.
As far as the SEA teams go, your guess is as good as mine. Fnatic has a window of opportunity. They placed 4th at TI6 and picked up players from TNC Gaming in the recent shuffles. TNC placed Top 8 at TI, so the new players are somewhat 'proven.' Execration could derail their bid, though. Execration just won the MPGL SEA championship.
We'll find out soon, and no matter who is invited you can expect some kind of firestorm to brew about it on Reddit.