Let's be honest, Ana's been getting a pretty bad wrap. Although it's true that she has a comparatively disadvantaged skill set, there's always a way to outplay the opponent.
How can we succeed with Ana? What are her strengths, and how can we use them to win?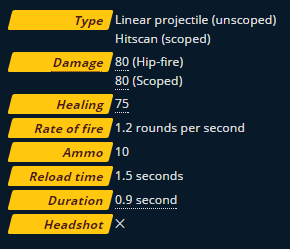 1. Forget about headshots!
Contrary to common intuition, Ana's rifle doesn't have a headshot multiplier. Aim at the thickest part of your foes body's for a higher chance of hitting your shot.
2. No-scope whenever possible
Ana's shot doesn't need the scope to be accurate. Don't waste your time with the scoping animation when your target is close. It will keep you on your feet and ready to evade incoming attacks.
3. Communicate with teammates
Ana's skill set relies on lines of sight to support teammates. Make sure your teammates know where you are so they know if they can expect help from your shot.
4. Don't shy away from aggressive play
Close range no scopes combined with her shift dart gun can trump more one on one matchups than most other support heroes.
5. Partner up with other supports
As Ana usually can't provide enough healing for a whole team, it helps to share the job with another support. Mercy works particularly well, as Ana can reach her from a vast range of distances.
6. Nano boost the right teammate!
Ana's ultimate boosts a teammate target by increasing movement speed by 30%, damage by 50%, and damage reduction by 50%. If your team is under heavy fire, give it to the tank. If you're chasing low enemies, give it to the most mobile DPS hero.
7. Positioning is key
Ana wasn't gifted with the most mobile skill set, so it's important to be mindful of positioning. It helps to pick hidden spots on roofs, just like those used for Widowmaker.
8. Know when to pick Ana
Mobile DPS heroes give Ana a hard time. Unless you can stun them with her dart gun, they'll mow you down before you can even begin to escape.
Genji, Reaper and Tracer are good examples of heroes to avoid. Reinhardt will also give you a hard time, as he can easily position his shield to block your shots.
Closing thoughts
If you're really trying to climb ranks, Ana's currently not the hero to choose. Ana's fun to play though. So follow these tips if you can't resist.