We're living in an age of esports where each title is fighting for their place in the spotlight. Valve's popular title Dota 2 has been changing their tournament format to allow for more second and third tiered production companies to produce tournaments. Their intention seems to be to allow for production growth within the community, but not all good intentions end up well.
At the beginning of January, Moonduck Studios produced Captains Draft 4.0 in the historic DC Armory. It was their fourth installation of the series, but it was their very first Valve sponsored Minor. The event ran pretty smoothly until guest panelist and NFL football player Blake Martinez recalled the story of his first in-game name. It was then that our community took a turn for the worse.
Flashbacks of Shanghai
It's been over two years since the Shanghai Major. Since then, our community has learned a lot about professionalism in esports.
James "2GD" Harding had demonstrated in the opening of the Shanghai Major that anecdotes of sexual activities were inappropriate during a live show. The community, for the most part, wasn't pleased with what he said, and questioned his professionalism for acting the way he did.
As a burgeoning industry, esports are highly scrutinized for its behaviour, productions, and on how professional the industry is. That day esports took a step back after all the progress we, as a community, have demonstrated regarding why we should be taken seriously. We lost all forward momentum, and had to rebuild our image again.
Captains Draft 4.0
Blake Martinez's story about his first screen name isn't new to the community. Back in 2017 Blake joined the Elimination Mode 3 panel to introduce himself to the community, and talked about Dota with the panelists and casters at Moonduck. He recounted the story about how his friends were into Dota 2 at Stanford. They'd ask him to join in, and he eventually wanted to play the game to see what it was all about. Blake claims a friend made the account for him and stuck him with the screen name "pussyfucker69" to mess around with Blake. He joked that he had no idea how to change his screen name. Google is a challenging tool for a Stanford student to use, it seems, as he kept the name for months.
During Captain's Draft 4.0, Blake Martinez was on the panel again, and recounted the same story during a Valve-sanctioned event. Everyone on the panel laughed and the show went on. No one had any apparent issue with his language during the event, and no ban hammer dropped from the sky like it did for James. It was business as usual for the crew at Moonduck.
Language is a Tool
The language that Blake used, regardless of whether or not it was his screen name, was inappropriate and sexist. Blake is a public figure who has a prominent football career, and is well known in the gaming community. We need to hold panelists, casters, personalities, and interviewers to a higher standard than Blake's. They set the boundaries on what is socially acceptable for the our community.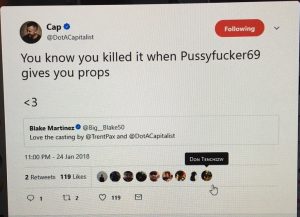 There is no difference between James's story and Blake's, with the small exception that Blake wasn't fired. Does Blake's notoriety as a Greenbay Packer give him an excuse to recall this story whenever he's in on stage? Or was it the lack of "professionalism" that Moonduck is known for that gives him the pass? What's even worse is that the community, as well as other casters, have rewarded his unprofessional actions.
We've lapsed on holding our community responsible for their actions. We've focused too much on sensationalism and getting views that we've lost sight of what our language does to the community. When Blake repeatedly jokes about his screen name he's being rude and sexist. His actions give approval to other members of the community to exhibit the same behavior.
It's also extremely disappointing to see that Valve hasn't done anything about this incident. Women already have a difficult time in the gaming industry. Examples like Blake's demonstrate the inherent sexism that exists within our community. There's a distinct reason why all the male panelists laughed at his joke but no woman did: it's sexist.
Hold your favourite panelists, player, team, or personality accountable for what they say. You are what holds them in their esteemed position. and you have the power to call them out. Don't let the actions of a few dictate how our community grows. We need to change ourselves now if we ever want to have an inclusive community.