Last week Respawn and EA launched a game that no one expected. As a big fan of Battle Royale (BR) games myself, I only heard about this a couple days before it came out, but Apex Legends made a splash. Within a week Respawn was able to boast over 25 million players. Nearly everyone I know has been playing it nonstop, myself included. For those who are still on the fence, here's my Apex Legends review.
What's Fresh About Apex?
If you are someone who finds Battle Royale games stale and unappealing, Apex Legends isn't going to change that. The biggest thing that Apex brings to the table is polish. If you're someone who enjoys Battle Royale games, then you should probably check Apex out. I personally grew tired of PUBG's bugs and awkward aiming system, and couldn't get into Fortnite's cartoonish exterior and building aspects. Apex falls right in the middle; it's a mix between cartoon and realism, and is backed by a solid aiming system. If you have enjoyed either PUBG or Fortnite, you'd be wrong to not give Apex a try. Plus, it's free!
Apart from style and aiming, Apex boasts a variety of playable characters, or legends. This is something that many of the other Battle Royale games stayed away from, not wanting to deal with the nightmare of balancing characters as well as guns. However, Apex has managed to create a dynamic system where no character stands out as exceptionally better than the rest. There are a few who might be lacking, but it's more about your own play style than about overpowered abilities.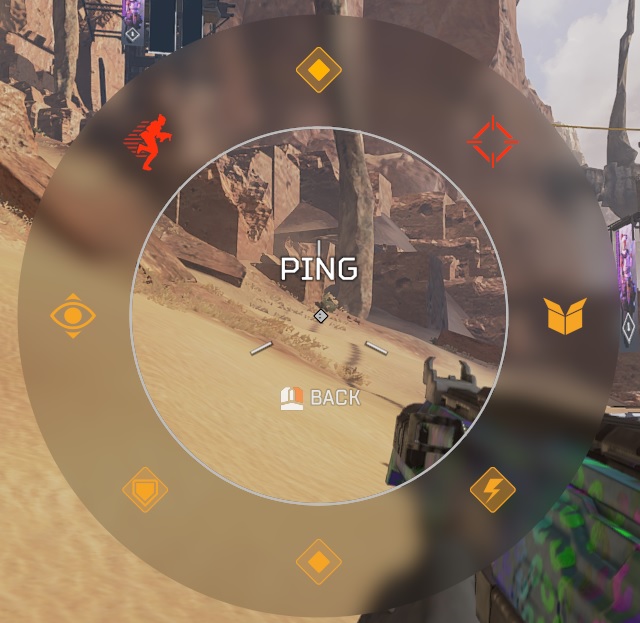 Apex also brings an entirely new aspect to the table (which is probably the best part of the game): the ping system. This seems like something small, but it is anything but. While in-game you can click your middle mouse button to ping a location, either in front of you or on the map. You can also hold down to bring up a wheel of options to choose from. These options range from 'enemy has been through here' to 'set up defenses' and everything in between. The normal ping is also extremely dynamic. If you ping an object, your character will announce the object, such as an open supply crate to announce nearby enemies. If you click on an open slot on your gun, or on the ammo type, you'll ask for that piece. There's also a quick button for announcing a nearby enemy, so you don't have to fiddle with the wheel under pressure. This system is so versatile and accurate that you don't even need a microphone. Locations, distances, specific ammo types, and locations . . . the ping system is what keeps me playing, even with randoms.
Cons to Apex – Sort Of
When writing a review I always like to create a pros and cons section. The pros section was basically my endorsement above. The cons section is usually pretty easy for me to write, but honestly, Apex is one of the best games I've ever played. It's smooth, polished, and was fully playable on release. More features are being added as well. Instead of a cons list, I'm going to list features that should be implemented. If they aren't implemented soon, then you can look at this as a cons list of things that really should be in the game.
A reconnect button. This is first and foremost. Crashes are understandable, as the game is new and the servers are being mauled. Not having a reconnect button is not as understandable, especially considering how many people are reporting issues. I'm surprised a reconnect button wasn't already included.
Statistics! There are lots of individual stats, but there's no overarching stats page where you can see your cumulative kills or wins. You can't even currently track your wins without a full squad on any character. People love stats. I love stats. Give us stats.
Play again and add friend buttons. Ever had one of those games where you loved playing with your teammates, and want to jump directly into another match? Being able to queue with the same random players, or add them directly as friends, would be a huge step in the right direction.
What's the Future of Apex?
Respawn has already released a one-year roadmap for Apex Legends. Currently we are in the 'preseason' for the first month as they iron out all the bugs and issues. In March, Season One will be starting, alongside the release of their Battle Pass, and a host of other goodies. We have no idea what the Battle Pass will include at this time, although it will likely be cosmetic items for the season. From the FAQ:
"The Battle Pass is a seasonal system that rewards players with exclusive cosmetic items. These rewards are a mix of exclusive seasonal cosmetics and Apex Packs. Every player can unlock some of these items each season through normal play; those who choose to purchase the Battle Pass can earn everything available that season, around 100 different rewards."
The prices for the Battle Pass have not been announced, but it is confirmed that no legends will be locked behind the pass.
Other things coming in Season One, and each season after, include: a new legend, new loot, and new weapons. Each season will be three months long, and that's all the information we currently have. It's great to see that they already have a one-year plan, and I can't wait to see what else comes!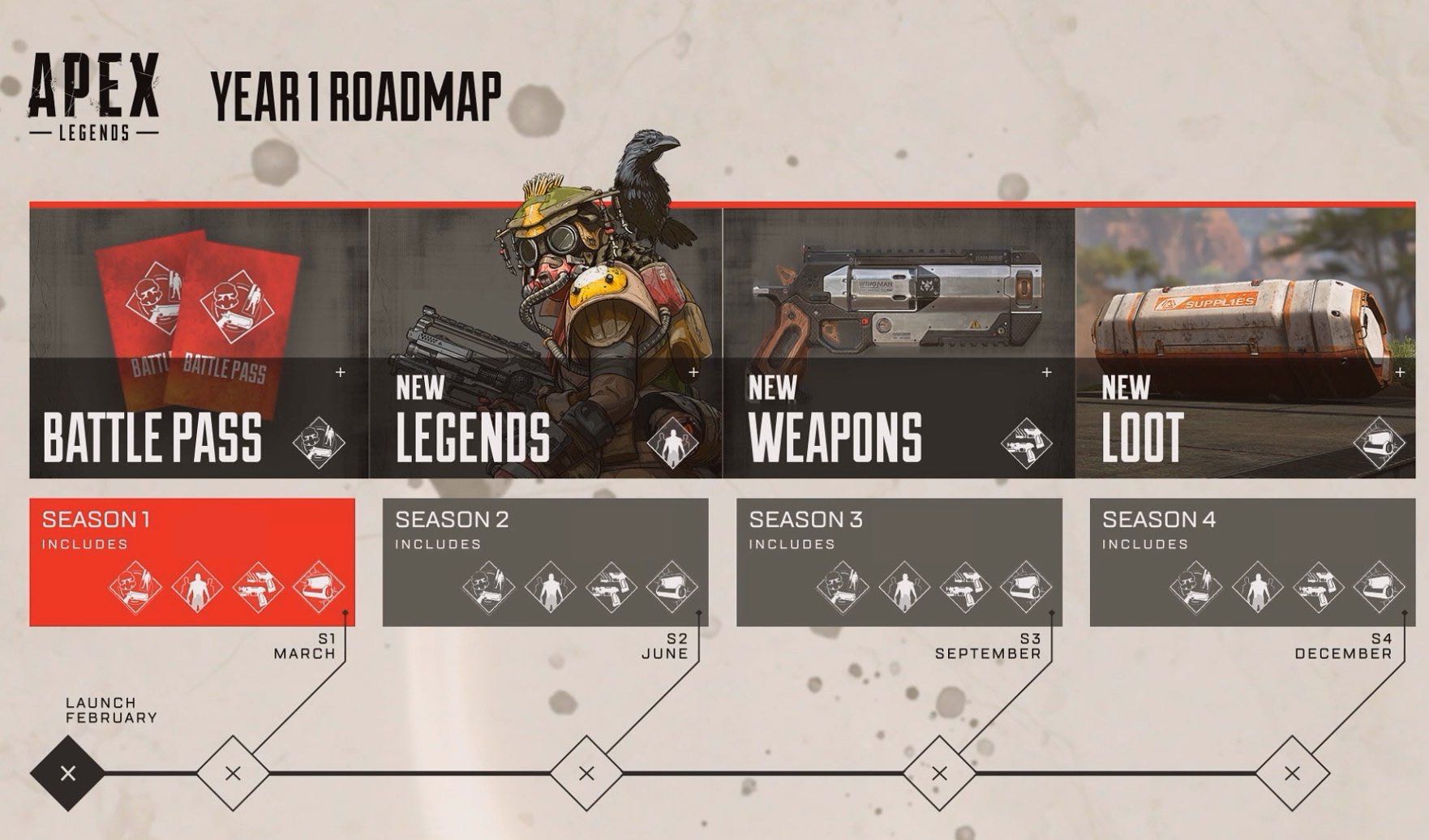 Conclusion
Over the past week and a bit, I've put nearly 100 hours into Apex Legends. I love this game. I can't see myself quitting any time soon, which is an endorsement I haven't given to many games. It's also going to be the first Battle Pass I buy.
Apex Legends is a well-polished, smooth-running, incredible-feeling game that makes me want to sit and grind out hours every single day. The only cons to the game are features that have yet to be added. There's even a one-year roadmap ready to go. Plus, the game is free. What are you waiting for?