I grew up feeling the need, the Need for Speed. Hot Pursuit, in my mind, was perhaps the best racing game of all time. It was this game that instilled the love of electronic competitiveness in me which led to my gaming obsessions. My adolescent mind could imagine itself inside the car driving in and around the track or city streets. To me, I was inside that car, and there is only one way to capture that feeling again: immerse myself with racing in Virtual Reality (VR) set and put myself back on track.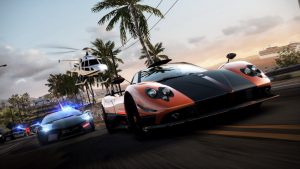 The Need for Speed
Yet after racing around my track over and over again, I began to lose purpose and joy. My wins meant little, and my losses even less. There was no sport attached regardless of the game. Then, just a few days ago with McLaren Formula 1's announcement of their Shadow Program, my hope was restored. VR suddenly had purpose again.
A New Esport
VR has been stumbling around, trying to find meaning. There have been plenty of shooters with choppy movement that feels more akin to stumbling around than moving strategically, and even more games that make people feel motion sick.
Stationary shooters are okay but tend to lose their "enjoyability" after a few days. Games where your avatar is locked in a cockpit have arguably been the best use of VR's technology to date. Removing the hassle of cordoning off an entire room to stumble around in, exhausting yourself after a long day of work, stationary games allow you to feel more immersed. Meanwhile, many argue that racing and dogfighting games are the best way to enjoy VR. Now there is purpose in the F1 Shadow Program.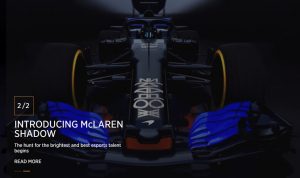 Shadow Program
McLaren F1 has decided to dive into the esports genre with its Shadow Program. They plan to create esports teams that will compete against each other racing virtual F1. The races will happen alongside the real life races and the teams will work alongside the real life teams. It is perhaps one of the most ambitious ventures since Blizzard's creation of the Overwatch League.
Even more ambitious is that McLaren F1 plans on recruiting its esport talent from regular electronic racers like you and me. Imagine tossing on a VR headset at home and racing around a track in iRacing or rFactor 2 one day, and then arriving in UK at the F1 Technology center to compete in the Finals. This is what VR was meant for.
How, then, do you enter this exciting new esport? You need to race.
PC users can compete in iRacing or rFactor2. For those of you who use an Xbox, Forza Motorsport is for you. Even those of you who enjoy mobile gaming can enter the challenge in Real Racing 3. Personally, I would try and stick to iRacing or rFactor 2 as they have VR compatibility. Anything you can do to give yourself an edge is a must for this opportunity.
Competition starts in August with iRacing and Real Racing 3. September begins rFactor2 players change and October brings in Forza Motorsport.
Gear UP
If you don't already have a VR set for your PC and need to get one you have a three choices, ranging from $100 – $1000. VR gear can be broken down into a few categories to determine what you are looking for. Does it hurt to wear? Am I going to throw up everywhere? And will I have to sell a kidney to gain access?
Samsung Gear

Does it hurt to wear? No, Samsung Gear is comfortable on your head. The straps are adjustable to fit overly large heads and tiny heads alike. The cushions work, although are not overly expensive. Long term use over several hours may cause some discomfort.
Am I going to throw up everywhere? Possibly. If you are already susceptible to motion sickness, you very well may end up not keeping your dinner down. This has to do with many features in the Samsung Gear, namely which device you are pairing with. As this gear is compatible with most Samsung phones (S6, S7…) The larger the device the greater the focus for your eye will be. Samsung recommends the Note 8.
Will I have to sell a Kidney? That depends (never sell your kidney… seriously). If you already have a Samsung phone or Note as your personal device, then no. This gear can be as low as $100. If, however, you need to purchase the gear and the phone, the price can go up to $1000 easily.
Oculus Rift

Wear? Oculus pioneered VR and have learned a few things about quality, namely comfort. This is a device that can be worn to easily watch a movie, or play an extended gaming session. The sound system is included with the headset, as are the comfortable hand controls. This is the all-around VR system.
Throw up? Maybe. Once again, if you get motion sick this may not be for you. However, this is superior in design to Samsung gear as the viewport is designed for VR and not just a phone.
Kidney? Nope! The Rift, coming in at $529, comes with the headset which has headphones, the remotes and the sensors. This is a steal if you want to get into the VR world.
HTC Vive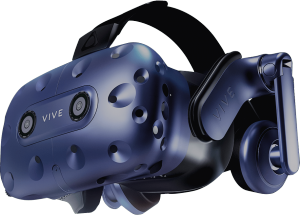 Wear? I wish it were not so comfortable. I had forgotten I was wearing it at times. When I take it off, I forget that this is where I exist and not where VR has led me.
Throw up? Look, I wish I could tell you that you would throw up. But you will not. You will not even know you are wearing it. Dodge, duck, dive, ball, wrench– You will be fine. It feels like a second set of eyes.
Kidney? This is why I wish I could tell you otherwise. The headset alone is impossible to get from retailers. It is only available through private re-sellers at an exorbitant rate. If you want the Pro (which, if you are serious about VR, get the pro) it's $999, but unfortunately you will have to get the controllers and sensors separately.
Final Remark
The Vive is the best machine, yet I recommend the Rift for its affordability and ease of purchase. Unless you have unlimited resources, in which case: go ahead with the Vive!
Get racing.