Last weekend in Sweden, three Dota 2 teams had breakthroughs at the expense of former champions. By winning the DreamLeague Major, Team Secret claimed their first premier tournament victory in over twenty months. Team Secret's triumph in the grand finals, over TI7 champions Team Liquid, validated their perseverance through prolonged struggles.
On the second day of the event, Evil Geniuses and Natus Vincere each eliminated a heavily favored squad. Evil Geniuses decisively defeated the ESL One Hamburg Major champion Virtus.pro and Natus Vincere knocked out the Perfect World Masters Minor champion Newbee. In the process, both teams redeemed themselves for previous failures in the Dota Pro Circuit.
The DreamLeague Major's Best-Kept Secret
Team Secret's victory was long overdue.
Since kicking two core members—MiSeRy and w33—after winning The Shanghai Major in March 2016, Team Secret captain Puppey has struggled to piece together a winning roster. Although they did win last November's ROG MASTERS 2016, it netted them less prize money than placing last at TI6, and they were the only Western team in the tournament (excluding Australia). Other than Puppey, MidOne is the only remaining member from that squad. Together, they've gradually built the current Team Secret lineup, first adding YapzOr in May, then rounding out their roster with Ace and Fata in the post-TI7 shuffle. They actually came close to winning the last Major, ESL One Hamburg, but fell to Virtus.pro in the grand finals.
A Hard-Fought Grand Final
This time things would be different. But the DreamLeague Major grand finals between Team Secret and Team Liquid wasn't as one-sided as the 3-0 score implied. Each of the first two matches lasted over an hour and was incredibly close.
"It's safe to say that most teams here have, you know, done the most amount of work against Liquid since they were the winners of TI," Puppey said. "You constantly have to figure out why they're doing so well and how to beat them."
Game one (Twitch VOD) of the grand finals was the best match of the entire tournament. Team Secret busted out the rarely seen middle lane core Kunkka for MidOne. YapzOr's support Elder Titan was on a beyond godlike spree (10-0-11) just 21 minutes in. Yet despite Secret's massive kill score advantage, Liquid somehow managed to keep increasing their team's net worth. In fact, at the 52 minute mark, Team Liquid was actually up 10k gold even though the kill score was 17-47 in favor of Team Secret.
Each team used the newly introduced Refresher Shard at some point to successfully defend their barracks. 48 minutes in, Team Liquid carry MATUMBAMAN popped the Shard to summon a third Lone Druid Spirit Bear to hold high ground with both of Liquid's other cores dead. On the other side of the map, Fata used the Shard in addition his Refresher Orb to execute a triple Tidehunter Ravage at the 66 minute mark, which bought enough time for Ace's carry Weaver to respawn. The game came to a fitting conclusion when MidOne picked up a Divine Rapier (along with double Daedalus) and immediately eviscerated Team Liquid's entire team in just a handful of hits.
On the right side of the screen, MidOne's Kunkka heads to the high ground after throwing out a Ghostship. There, he grabs his newly purchased Divine Rapier from the courier and goes invisible using Silver Edge. With one hit to the Panda Spirit Bear, the insane cleave range from Kunkka's Tidebringer ability pops two of Liquid's heroes. The rest of Team Liquid falls shortly after. (Video source: DreamLeague's Twitch)
"I think any team can beat any team," MidOne told the camera during an interview. "It's just that you have to be ready, be confident."
Game two featured a double-double Hand of Midas strategy from Team Secret. Ace picked up the golden glove on both his Lone Druid hero and Spirit Bear, while MidOne cashed in with his Arc Warden's Tempest Double illusion. Although the match remained close for the better part of an hour, Secret was able to catch Liquid's Tinker (played by Miracle-) time and time again. Eventually, their Spirit Bear/Tempest Double rat strategy desecrated Liquid's entire base. By the third grand finals game, Team Secret had the tournament in the bag.
The Vindication of Team Secret
In the end, Team Secret simply performed the best out of the eight teams in the field. They only lost one match in the entire tournament.
"I'm just very happy and I want to thank everyone for supporting, and I mostly want to thank my team because they're amazing," Fata said, after raising the trophy.
Fata went 2-0 on Tidehunter (in the closest games of the grand finals no less), while all the other teams were a combined 1-5 on the hero. In those two games, Fata had a total Kills/Deaths/Assists score of 15-7-65 and repeatedly hit huge Ravages to help Team Secret dominate teamfights.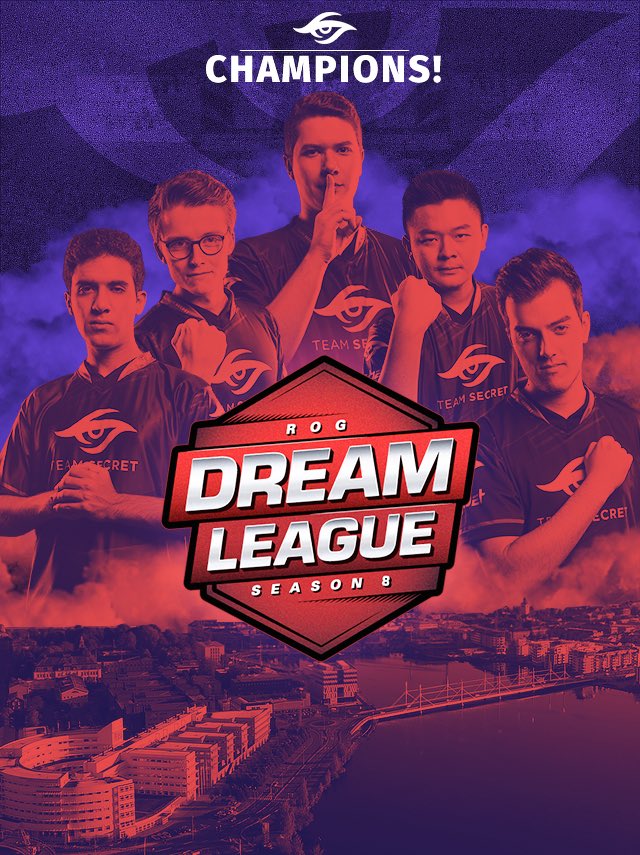 Winning the DreamLeague Major wasn't just about money or Pro Circuit qualifying points, it was also a personal victory for each member of Team Secret:
Puppey is a winner once again
Ace, the only member on his team who hasn't played at TI yet, proves himself
YapzOr gets his first LAN win
Fata beat his old team in a new role
Most of all, MidOne tweeted a tribute to his father, who recently passed away
Two Teams Defy Expectations
Evil Geniuses (EG) and Natus Vincere (Na'Vi) each pulled off upsets in the lower bracket. Both teams finally found their form after months of disappointing results. EG previously had one top four placement in the PGL Open Minor, whereas this was Na'Vi's first top four finish over three Pro Circuit tournament appearances.
EG: DreamLeague Major Comeback Kings
30 minutes into EG's first match, their opponents, Virtus.pro, had a net worth advantage of just under 20k. Typically, this is a sure sign of defeat, but Evil Geniuses carry Arteezy knew better:
"I felt confident that if this game, we managed to drag it out 'til like 40 minutes, until we like sorta just came back and got some items we would be able to teamfight them because they were only stronger than us for, like 20-30 minutes so in the mid-game they have this like, peak and the weaver itemized to end the game, so if they failed to push with their momentum and end the game, the way that this weaver itemized, it means that we can actually scale."
Arteezy's analysis was spot on. Eventually, EG got to the point that Virtus.pro simply couldn't fight them five-on-five anymore. Evil Geniuses would maintain their momentum in a game two stomp.
Na'Vi Is Back (Again)
In the next series of the tournament, Na`Vi found themselves down 0-1 to Chinese powerhouse Newbee. In the next two matches, they responded by first picking Bane and taking the hero away from Newbee's captain Faith. At the DreamLeague Major, Bane had a 75% win rate in 12 matches. All three of the hero's losses came from the last place teams, Fnatic and Infamous. As a support hero, Bane's presence is most strongly felt in the early game. Na'Vi was able to take advantage by winning all three lanes in their second match on their way to victory.
Game three was a different story. The teams were fairly even after the early game, and it was the mid-game fight around the Roshan pit that ultimately gave Na'Vi the items they need to siege Newbee's high ground.

When asked how they managed to beat Newbee, Na`Vi's position 4 support RodjER said, "We tried so hard, and worked so hard, so… that's it."
In the series between Evil Genius and Na`Vi, EG would pull off another (less drastic) comeback in game two. They fell 0-2 to Team Liquid in the next round.
The DreamLeague Major Meta
89 unique heroes were picked.
Weaver was unexpectedly unsuccessful, with a 1-6 record. The only team to win with the hero in 7 matches? Team Secret in game one of the grand finals.
Popular picks were figured out: Storm Spirit 0-5, Queen of Pain 1-4, Puck 2-6, Death Prophet 2-5, Tiny 2-5.
Shadow Shaman went 1-8, with six of those matches coming from Na'Vi (who were 1-5 on the hero).
After seven seasons of solid tournaments, this was a big jump for DreamLeague in terms of prize pool and prominence. The event as a whole was relatively short, especially in contrast with the previous week's Perfect World Masters Minor, even though the first two days were jam-packed with action. There will be more teams in future Majors, but it won't be easy to top the competitive standard set by the first two.