From Amateur to SteelSeries Sensei
The Steelseries Sensei is the first mouse I've actually researched and purchased for myself. Before that I used whatever shipped with the prebuilt PCs or hand-me-downs from friends who felt sorry for me. Regardless, I can genuinely say that buying myself the SteelSeries Sensei has taken my competitive gaming career to new levels.
The mouse has more features than I can appreciate or discuss so I will keep to what's important to an average gamer like myself.
The CPI is more than Accommodating
My demands for high sensitivity from the mouse are negligible. I play on an average sensitivity in both League of Legends and Overwatch but whether or not I need it the SteelSeries Sensei has a default CPI range of 1-5700, with the option to double it. For people who need it, there is a built in CPI button which lets you switch between standard and doubled CPI within a trigger finger's reach. For me, the button is referred to as the "what the hell is happening" button as I failure to line up my crosshairs for the next few seconds.
It Feels Really Good
I have above average sized hands and the mouse fits just right. The grip on either side keeps my hand kissing the mouse at all times. There are also six programmable mouse buttons and I never find my clumsy hands hitting any of them by accident.
The mouse is superb in game. I never had a moment where I felt the need to blame my mouse for skipping or hesitating. Everything is pin-point accurate. This is all good for the mouse but it reduces the amount of excuses to pull from when I'm personally underperforming. It's a difficult tradeoff but I've decided it's mostly worth it.
Colors, Colors, and More Colors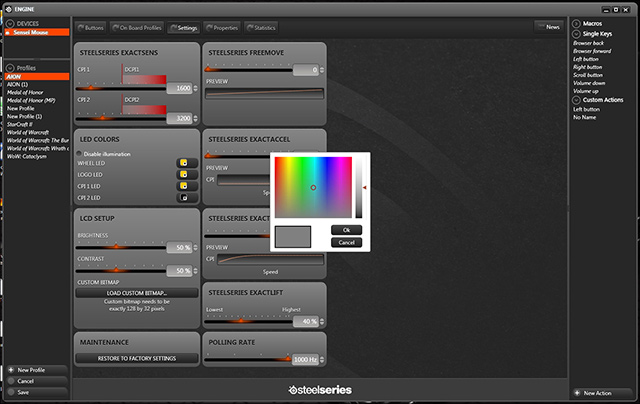 If you are going for the color coordinated set up at your desk this mouse is perfect for you. There are 4 separate lights that are available to be customized independently. They are bright and are unrestricted in which colors you choose. If you're like me, you'll find the perfect combination and never change it again but for those who like to spice things up, the color interface is very easy to use. To sweeten the deal, the CPI button can be programmed to display two different colors to indicate when it's on or off.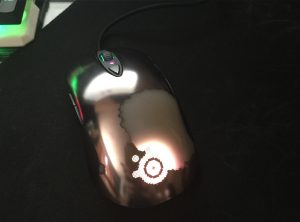 My One Complaint
As a gamer I get very tense; knees weak and my palms become particularly sweaty. Over the course of about a year of stressful matches and insane plays, the metallic surface on my mouse has eroded to about ⅓ of the mouse's surface. The mouse functions at the same level as it did when I unboxed it but the erosion began only after a month of using it. If you are concerned about aesthetics and have sweaty palms, this mouse might not serve you as well as the completely black [RAW] version of the mouse.
If you have additional questions about the mouse, I can always be found on Twitter @Phischer.