Gaming Peripherals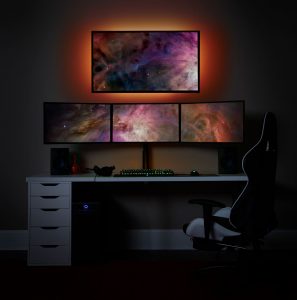 The age old question in gaming peripherals: can they make you a better gamer? Short answer in regards to Echogear's Monitor Mount: Yes.
Organization
My question to you however, dear reader, is how organized are you? Perhaps you are the pinnacle of organization skills and your desk is immaculate. Or, maybe you are like me and your desk's organizational structure is more… organic. Either way, taking your monitors off of your desk and giving them a facelift will benefit you.
I have had the fortune to recently use Echogear's "Duel" Monitor Gaming Mount to attempt to organize the shambles that is my desk. Further in the article I will discuss the pros and cons of this device. But first let me say that the mount did not fix my organizational tendencies. But it did was create more desk space for me to 'organize' more things. Consequently my desk now can hold so much more!
This is your friendly PSA that buying something will never fix your problems. Fix your problems first. At least I have accomplished the first step in fixing my problem, acknowledgment.
The Mount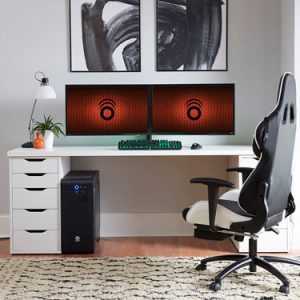 First point I must make about this mount is that their website does not lie. It is a very nice mount. Although the very staged pictures of their Battlestations are far too neat for my comfort level. Add 90 books, a few notepads, a few hats and Franklin the Turtle, and you have a cleaned up vision of my Battlestation. The Mount however, works perfectly. It holds my one monitor and one TV turned into monitor very steady and adjustable.
The setup was relatively easy. Aside from the initial rejigging of my entire computer setup. The setup of the stand itself was easy. I needed a few tools, which yes most people will have, or at least have a friend nearby who would have these things. After adjusting the strength of the gas spring, the arms move around gently and easily. In short, the mount works. It is great.

The Nitty Gritty
Let's slow down for a moment and get real here. I am a binge gamer. I have a job that does not allow me to play computer games all day every day – shocking I know. So when the time comes I am usually on my computer for at least 12 hours (bathroom breaks happen, don't worry). This used to cause my posture to slouch down and my neck to strain as I stared at my computer screen down on my desk. I now have both of my monitors staring at my directly at eye level. Neck strain, gone.
This makes me a better gamer. I have found myself less irritable during gaming sessions, even finding myself being the voice of reason in my DOTA 2 match, whereas before…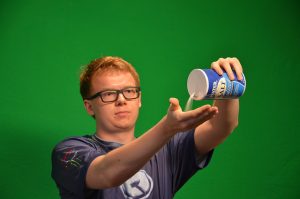 PROS
Does exactly what it describes, if they make a claim on their website this mount backs it.
Holds my fairly heavy 27 inch TV along with my 30 inch monitor.
Main middle stand works excellently, even backwards (don't ask).
Solid construction.
Foolproof non-Ikea instructions. I hate Ikea.
I saw the instructions and at first thought Ikea and screamed, but no this was actually acceptable.
Ikea really needs to figure their instructions out.
Instructions are catchy and written with gamers in mind. Can be too much at times.
CONS
After Install, the mount made me want to clean my desk… at least for the first couple of minutes.
The Mount made me want to buy two matching monitors for my desk.
At a starting price range of 149.99 not the most expensive mount out there, but pricey. Especially when you consider the two monitors I looked at buying after install.
Says the mount requires an open section to clamp onto in the back of the desk for stability. Does not suggest clamping onto the front of your desk and reversing the arms. Too bad, I did, still works. Hopefully they don't fall on me, have not yet.
Instructions are written very specifically towards gamers. It was catchy at first, but began to degrade my intelligence after awhile.
The Takeaway
Echogear definitely put forth the effort into making their monitor mounts. The effort put forth into the writing alone in the instruction manual is evidence of this. If you have neck strain or are looking for more room on your desk, I would get a monitor mount. If you are looking for a nice monitor mount, one both solid in its construction, adjust-ability and ease of assembly I have no compunction recommending Echogear.
Just remember, anything helping you better your team is helping you make the dream.