October 31st 2015 will bring the start of bracket play in Dreamhack Cluj-Napoca 2015. The quarterfinal will bring repeat, historic matches, along with games that have never been seen before. Here I breakdown each match of the quarterfinal by its historical significance, along with each teams recent results, map pool advantages, and form so far at the event. I have given my predictions for each game, along with why I think that result will take place. Regardless of the results, we will all see exciting games and breathtaking moments.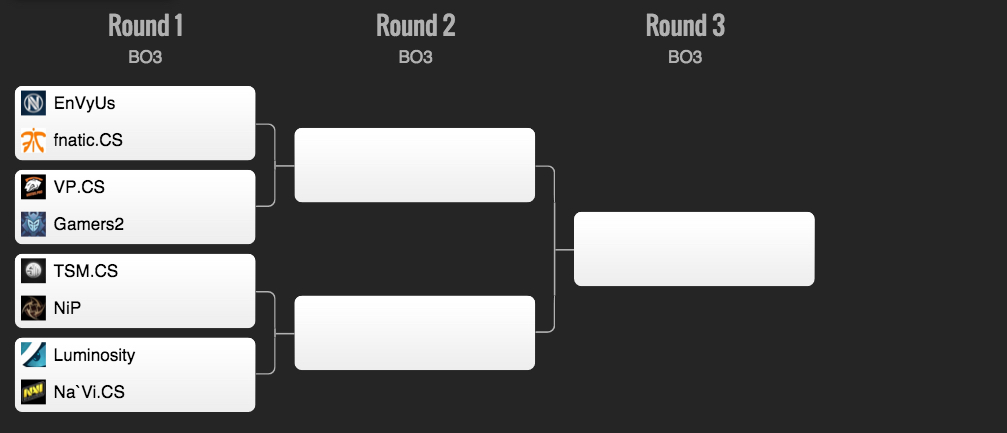 EnVyUs vs Fnatic
For the second time in a major these titanous teams will meet in the quarterfinal. Looking back to Dreamhack Winter 2014, the last time this event occurred, one can see many similarities between the dynamic of the teams. During that time, Fnatic and EnVyUs (then known as LDLC) were undergoing constant battles for dominance. Fnatic had been winning such engagements with great success. When the two teams met on the major stage, viewers took that result as being equivalent to the final. Fnatic and LDLC were so ahead of the game at that time that no one could possibly stand up to them. The match was close, each team making calculated map choices . The decider map, Overpass, would be marked down as one of the most memorable moments of the entire year.  After being crushed in the first half, Fnatic used a previously unknown boost which granted them massive advantages. The structure of the map allowed the boosted player to see more than half of the level. The only areas that said player couldn't see were the pathways leading to the site which the boost took place in. The boost also required three players, therefore if the boosted player saw nothing, the defending team would already have a stack in the site. Fnatic used this boost to gain information, get kills, and effectively tilt a confused LDLC into losing the match. After the match, an admin ruling decided that the boost was an unfair advantage, and the map was to be replayed. A frustrated Fnatic decided to forfeit the match. The team felt persecuted as this ruling came after weeks of cheating accusations. LDLC went on to win the entire tournament.
Now, once again these lineups will battle; and once again one could say that the victor of this match has a high chance of taking first place. EnVyUs has not only returned to the position they held last year, they have surpassed it. Now the roles are reversed, and Fnatic is the team to prove themselves in this event. The two most recent times these teams have played were ESL One Cologne 2015, and Gfinity Champion of Champions. At Cologne, Fnatic took the win. At Gfinity EnVyUs surpassed them. EnVyUs's recent success has them currently ranked above Fnatic. This matchup is a battle between two legends, and is absolutely a must watch.
Although this matchup is close, I would give the edge EnVyUs to win this 2-1. My reasoning for this is simply the form that EnVyUs has brought to this event as opposed to Fnatic. The veto system allows only one veto before the opposing team picks their map. Fnatic has shown serious weakness on two maps, Inferno, where they lost to Luminosity Gaming, and Cobblestone, where they let Vexed get 11 rounds on them. Both Inferno and Cobblestone are maps that EnVyUs are very comfortable playing. Therefore, in the case that Fnatic bans one of the maps, EnVyUs can simply play the other. Thinking about Fnatic's map choice is less obvious. EnVyUs will likely ban Overpass, in that case, Fnatic will probably pick Train or Mirage. Although they have been upset on both: Particularly Mirage vs CLG at EEPL finals and Mirage and Train vs Cloud9 at Dreamhack Valencia. I would give Fnatic the advantage for those maps. Then it comes down to the decider map. Which will either be Cache, Dust II, or Train/Mirage. EnVyUs simply has the skill and map pool to take them through to a victory here.
G2 vs Virtus.pro
The most notable tournament in which these two teams battled was Dreamhack Valencia. The match concluded with a horrendously gruesome 16-0 loss in the third map. Although one would think that this result dictates an advantage for G2, there are other factors at play. There are two harsh truths to be told about that match. One being that the match was called an 'upset' for a reason; and the second being that the Virtus.Pro we see today is vastly improved over the Virtus.Pro then. Since Valencia, Virtus.Pro has heightened their play, and gone on to win multiple events. In the meantime, G2 has gone through unfavorable roster changes and seen little to no improvement. Now that Virtus.Pro is comfortable with their Dust II, there are no maps that grant a clear advantage to G2. As long as the Virtus.Pro that competes tomorrow is similar to what we have seen all tournament, the Polish team should have little trouble winning this match. I predict a 2-0 win for the Poles
TSM vs NiP
So much has changed since the last time these teams battled on the major stage back at ESL One Katowice 2015. TSM has been freed from their previously crippling choking problems. They have gone on to win multiple events, and successfully battle the best teams in the world. Since Katowice, NiP has struggled immensely. They are no longer a tier one team that makes finals and wins events. Now they are simply a tier two team that is upset by competitors that should not even be considered on the same level as them. As of now, there is absolutely no rational reason to think that NiP will win the match. Not only do they suffer to compete with TSM in terms of individual skill, TSM also has a massively superior map pool. The only map that it is even remotely possible that NiP could win is Inferno; but since the team that chooses the map does not get side choice, NiP's T side is not nearly strong enough to get rounds on the heavily CT dominant map. Simply based off TSM's recent results, map pool, and current form at this tournament; it is extremely unlikely that NiP will win. I predict a 2-0 win for TSM.
Navi vs Luminosity Gaming
This is probably one of the more interesting match ups of the tournament, simply because the result is so hard to predict. Here we see a clash between a declining favorite and a rising star. Luminosity has surprised many at this event: taking wins over Cloud9 and Fnatic. They finished first place in a group that they were not expected to make it out of. Their opponent, Navi, has seen little success so far in the event. They struggled to make it out of groups, playing two close matches to beat out CLG. Versus EnVyUs, Navi was unable to gain any ground on one of their home maps, Mirage. One thing to take into account is the fact that Navi has been past this point before, while Luminosity has never made it past the quarterfinals. Nerves, along with the fact that this match is a best of three may test Luminosity to the point they crumble. I am going to give the edge to Navi 2-1 simply based off their map pool. The maps Luminosity like to play, Mirage, Dust II, Inferno, are all strong maps for Navi. While many of the maps the remaining maps that Luminosity doesn't want to play are clearly favorable for Navi. However, Luminosity has already surprised me twice, so a win here is not outside the realm of possibility.