Before Worlds began, we all knew competition would be fierce. It seemed that in most groups, any team could take at least one win off of another team (RIP Bangkok Titans). What we did not know that North America would be so strong coming into week on of the Group Stages finishing with a combined 6-3 record. If we didn't know better, it would almost seem as is no one studied up on NA teams or even made the effort to arrange scrimmage matches with them.
C9 managed to pull of roughly the same team composition three matches in a row. Their trusty siege comp secured themselves a 3-0 finish after the first week. In each match they continuously bombarded towers to gain a gold lead which ultimately lead to a victory. Between each of their matches, none of their opponents seemed to catch on and did not counter their picks or counter their play. CLG's first win of the week was shifty but was followed up with a convincing win against PNG. Thought to be a top contender of the "Group of Life," anything less than a 2-1 finish would have been a shock. TSM had a more unique scenario, frequently regarded as NA's number one team historically, each team seemed to know exactly how to take them down. With that being said, TSM still managed to grab themselves a win in week one giving them a fight chance in the following week. It wasn't until week two that thousands of hopeful fans had their dreams crushed one day after another. Each team beginning with C9 was exposed and demolished. But what exactly happened that caused such a drastic outcome for the North American teams?
During the North American Summer Split, NA teams developed their own meta revolving around rotations and taking down towers and generally the team that did it better would win the match. There was little contact between teams early game and teams played a low-risk, highly calculated game. What this meant is that during the regular season, there was very little need to adapt to new play styles, rather, the goal was to just get better at what they already knew. Not actively developing the ability to adapt as a team throughout the regular season is what handicapped the NA team's shot at Worlds this year.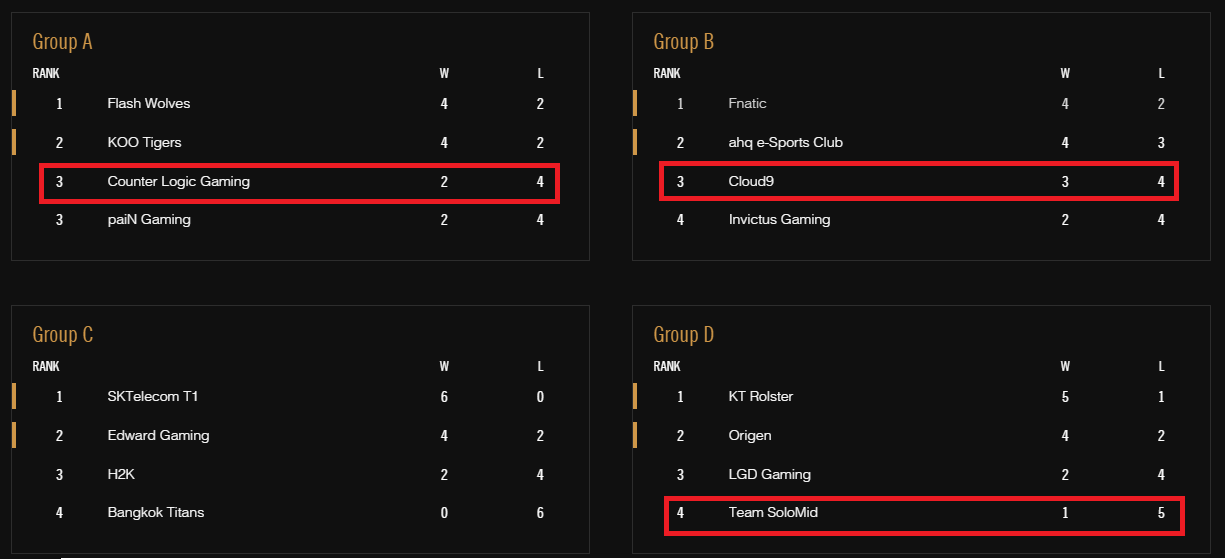 C9 entered week two needing only one win to secure a spot in the quarter finals after their 3-0 start from week 1. Almost everyone was certain they would make it through but in each match, their opponent learned and adapted to their play style that they once again tried to play all three games. Falling in the same boat were CLG and TSM, unable to adapt to their opponents, they were defeated just as easily in their respective groups. NA finished their second week at Worlds with a 0-10 record. Whether is was failure to adapt or a massive choke for all three teams, moving forward there has got to be some change.
Going into 2016's Spring Split, North American teams need to focus on innovation just as much as they focus on playing the meta. If they want a shot at 2016 Worlds, the region as a whole has to grow at a boot camp-like pace.