I first stumbled across Rust during the Steam Summer sale. I wasn't too impressed with the Minecraft-esque description, but the pictures looked interesting and I figured it might be worth a few hours of fun with friends. Little did I know that I had found a hidden gem in the Survival genre.
Fifty hours in and three days later, I had created a gigantic metal fortress and pioneered a meticulous system for storing items, raw materials, and weapons. The game took hold of me in a way many other games failed to do, and I became fixated on it, much to my surprise.
PvE grinding is actually enjoyable in Rust
Maybe it's my propensity toward obsessively organizing things or my love of adventure, but going through the motions of gathering raw materials, processing them, and storing them was rather enjoyable. Cutting down trees and mining rocks isn't super exciting, but the constant dangers of thirst, hunger, and predators keep you alert and engaged with your surroundings. And don't even get me started on wooden boxes—I could organize materials all day.
The thrill of exploration also kept me fastened to my computer screen. Rust maps are procedurally generated, so the map is never the same on different servers. After a while, you might notice a few landmarks or landscapes that are repeated, but the journey across the map is always an adventure.
Rust is all about interaction
Rust is a game designed to put you in contact with other people. Very rarely will you find an empty server that no one else gets on (unless it's your own private server). Sometimes people are friendly and will work together with you, and sometimes they'll be despot warlords. You never know. But—like an episode of LOST—you're stuck on this rock with other people, whether you like it or not.
Learning how to safely harvest resources and interact with other players is key to survival in Rust. It adds that extra layer of difficulty while also immersing you even deeper into that ruinous, chaotic world. Allies and clans can help you survive and get back on your feet when dangerous foes strike you down, and there is always the looming threat that someone may be watching you.
The visuals in this game are fantastic
Graphics are normally secondary to gameplay. However, Rust is a game I would recommend for the visuals alone. Set in a post-apocalyptic world full of abandoned air fields and power plants, you're left to wander on a large island ranging from snowy mountains to arid deserts.
The atmosphere and lighting is so immersive that sometimes I catch myself just staring at the horizon or the silhouette of a snow-capped mountain against the sky. And some of the sunrises are out of this world.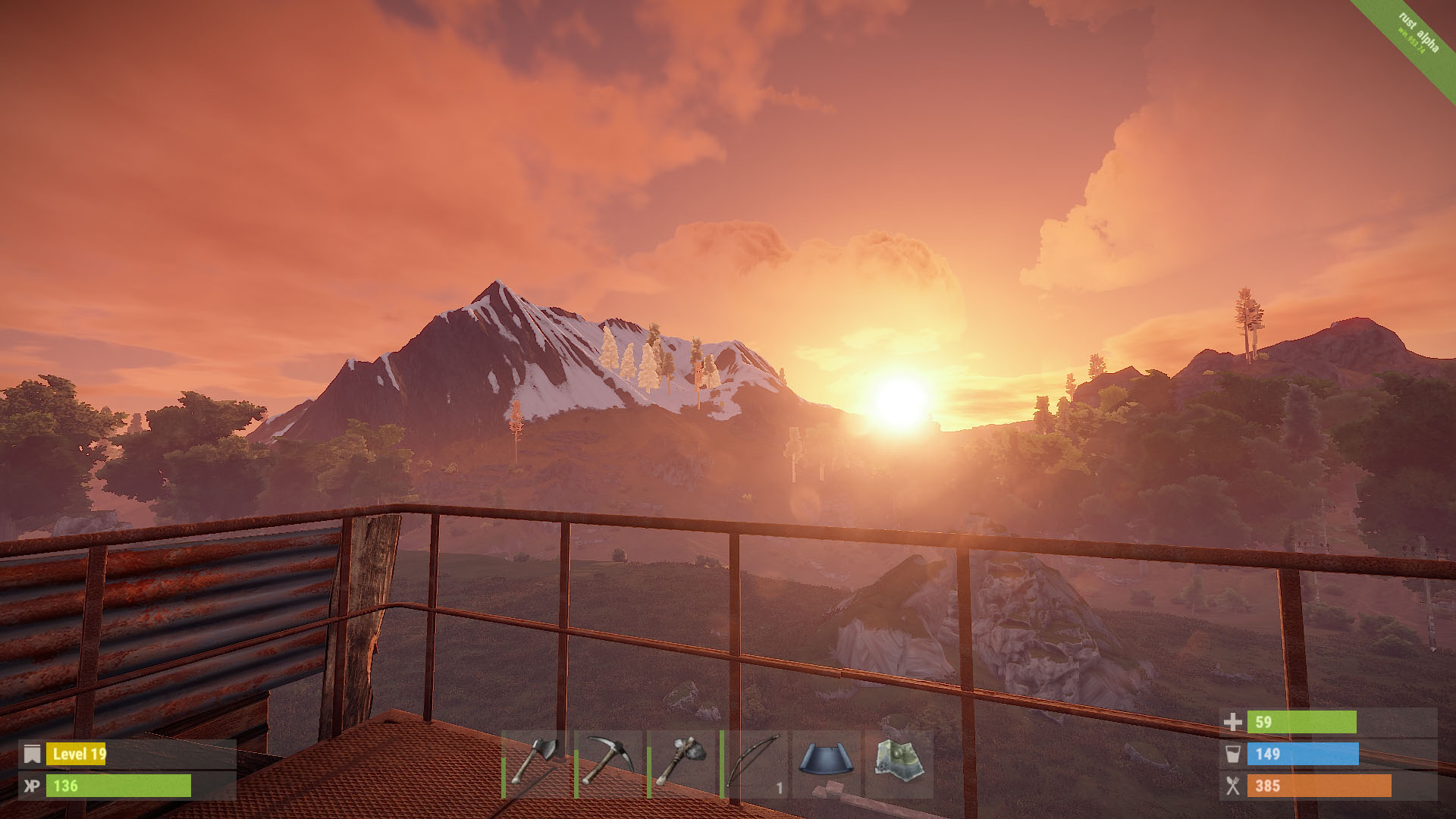 If you can't run CryEngine on full graphics, buy a new computer. You seriously don't know what you're missing.