What defines a successful team in esports? More than any other game, momentum factors in heavily when it comes to winning in Heroes of the Storm. In professional play, winning the first game of a series can quickly set up a clean sweep—team morale is up, things seem to fit perfectly into place, and nothing can go wrong.
When I look at the champions of the past six months, almost all of them have had heroic runs in tournaments followed by extensive periods of mediocrity. A large portion of these champions drop only one or two games the entire tournament, giving them the appearance of gods among their peers. But what I think we're witnessing is not a dominant team (nor a "lucky" team), but a team with momentum. It was momentum, not dominance, that carried them through to first place.
Exhibit A: 2016 European Championship #1—Leicester
Let's look at this past weekend in Leicester. Two clear favorites emerged from the group stages: mYinsanity (mYi) and Dignitas (DIG), both of whom more or less dominated their groups. DIG stepped into finals with a ton of momentum, not dropping a single game and KO'ing several top tier teams along the way (Team Liquid and Fnatic, in particular). mYi struggled a bit more, but both teams looked like they were playing at the top of their game.
Game 1 of the finals was on Tomb of the Spider Queen; both teams went even for a while, but a devastating teamfight stole all map control away from mYi and slowly starved them to death as DIG played smart and made all the right decisions to end the game. After the loss, mYi was reeling due to frustration, and their momentum was shattered. DIG went on to sweep the entire series—the entire tournament, in fact—without dropping a game.
So in terms of regional Heroes dominance, Dignitas are probably only second to MVP Black right now. Very impressive.

— Callum Leslie (@callumleslie92) April 24, 2016
Jump back to last season's EU Championship. Almost the same results. When I first read this tweet, I agreed; Dignitas is dominant. But are they really? Almost every tournament in the Western world thus far has been a weekend-long tournament, where momentum takes on an important role. We haven't had a single league to prove that, over time, one team will dominate one another; we simply rely on consecutive championships and overall results.
Two championship wins in two months with only two losses in total. Is that enough to rate them as "dominant"?
Exhibit B: 2015 European Championship—Prague
Last year showed Team Liquid and Na`Vi become top contenders for first place in every European tournament. Everyone knew Na`Vi was a powerful team, but no one expected the sheer and utter destruction they would wreak upon their opponents in this tournament. They, for lack of a better word, dominated it.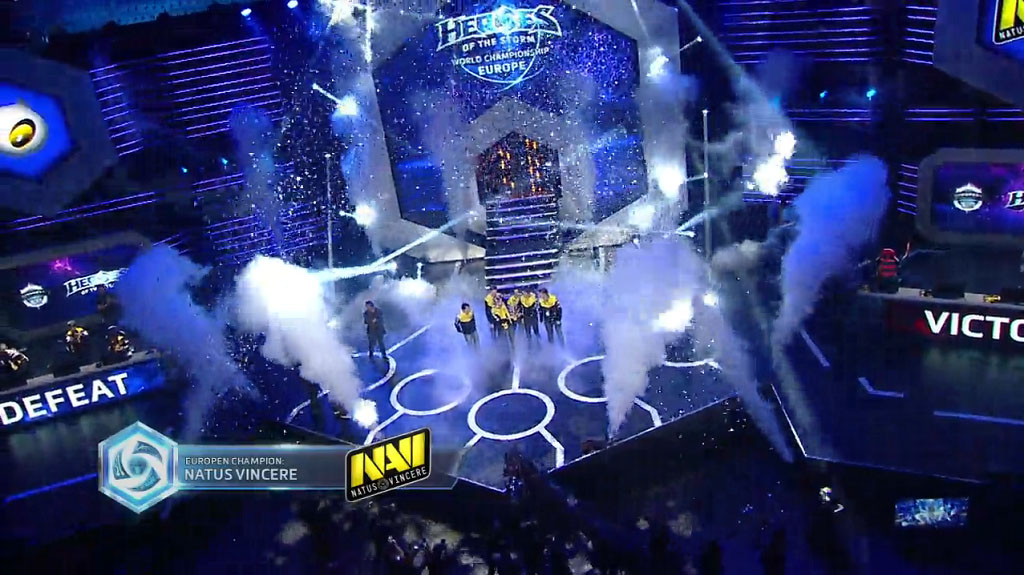 And yet, they did not become a dominant team. Aside from their unbelievable comeback against Team DK on Haunted Mines, they struggled quite a bit during the World Championship at BlizzCon.
Following some roster changes in the off season, they looked stronger than ever in online events. For a team with good results last year in their region, they looked poised to take all of 2016. But they didn't. In both Katowice and Leicester—both of the European Championships thus far this year—they failed to even make it out of the group stages against teams they arguably should have been able to beat.
In this instance, Na`Vi suffered from an extreme case of momentum. What the team experienced in Prague was a great weekend, but it made them appear much more dominant than they actually were.
Exhibit C: 2015 World Championship—BlizzCon
Oh BlizzCon. Heroes of the Storm faced its first big international confrontation and, like many of its predecessors, we saw the Western world rise to an even level with the rest of the world during the game's infant stages. Cloud9 destroyed this tournament. They toyed around with the Taiwanese team GIA and ran the Koreans around in circles with their obnoxious Murky/Abathur strategy on Cursed Hollow. Their European rivals, Team Dignitas, stood no chance in the finals. The strangest part was how easy it looked for Cloud9; they looked like they were just on an entirely different level than the rest of the world.
And yet—like Na`Vi, they went on to a period of mediocrity. They participated in China's Gold League almost immediately after BlizzCon, where they did quite poorly compared to their World Championship performance. Many attributed this to burnout and unfamiliar surroundings. Following this subpar performance, they flew back to NA early, forfeiting their spot in WCA in order to practice during the off season for 2016.
The next two months would show them vying for first place with new super team Team Naventic (formerly Bob Ross Fan Club), but more or less struggling to gain any sort of "dominance" they had before. They also participated in yet another Gold League tournament in China, where they didn't even make it out of the Group Stage.
During the recent Spring Global Championship, they were once again knocked out during the Group Stage by their Chinese rivals. As if that weren't enough insult to injury, they found themselves struggling in their own region against teams they had formerly dominated during the Summer season qualifiers, only barely squeaking through to the NA Championship during the Final Qualifier.
For a team that looked "dominant", Cloud9 was also a victim of gaining too much momentum. If they're truly the team that we rate them as, they should be able to maintain that godlike form we saw at BlizzCon at a consistent rate over time.
What It Takes to Be a Dominant Team
To me, a dominant team shows insane results over a large span of time, a trophy case full of first place prizes, and also looks good in every game they play. There are several cases of series sweeps where the score doesn't do the quality of games justice, but a dominant team owns up to these series sweeps as one-sided affairs.
Our old gods, Team Liquid in Europe and Tempo Storm in America, have come to an end as we pass into another era. eStar comes close to ranking as a "dominant team" in their region, with first place prizes dating all the way back to 2014. Unfortunately, EDward Gaming (EDG) is slowly overtaking them and becoming a force to be reckoned with. Even though their achievements are dissimilar, EDG is just as strong or stronger than eStar in recent tournaments.
In my opinion, the only current team to hold the title of a "dominant team" goes to MVP Black. The Korean titans have won every single premier tournament they've participated in within the last six months (with the one exception of last year's Super League, where they played an uncharacteristically bad series against Team DK in the finals) and have less than two dozen losses in their entire team career. They play a huge variety of compositions, have mechanically stunning players, and make split second calls better than any other team in the world. They are the absolute best in both Korea and the world and the epitome of what it truly means to be "dominant".