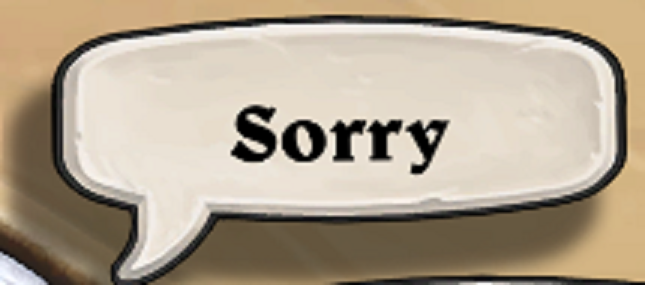 We say goodbye to Sorry
With Hearthstone's most recent expansion, they made a UI change affecting how players communicate. There have always been six different preset emotes that you can send at your opponent during a Hearthstone match. Until recently they were: Thanks, Well Played, Greetings, Sorry, Oops, and Threaten. Each had their own special phrases and every hero had a unique phrasing and tone for each emote. However, they decided that Hearthstone was not a place for people to apologize, and replaced the beloved "Sorry" emote with the new ever-sarcastic "Wow" emote.
Over the past weeks many players have been in situations where they desire to express their concern for their opponent, and have sadly been unable. For the Canadians out there it has been especially difficult, some quoted as saying they "just didn't know what to say," and that they "haven't been able to emote in weeks". In light of these dark times, I have compiled a list of all the times that Hearthstone players used to say sorry, a tribute to a more polite time.