The Capcom Cup is ready to be the biggest Street Fighter V event ever, at least that is what the mother company, Capcom, is hoping. The Capcom Cup prize pool currently looks to be the largest in the history of the Street Fighter franchise. The monster tournament will have a larger purse than any major tournament including this year's Evo and last year's Capcom Cup.
Where the Capcom Cup prize pool comes from
Capcom announced additional Street Fighter V DLC during Evo earlier this year. This DLC is unique in the world of esports as a portion of the profits Capcom receives are being used solely on the growth and outreach for the Street Fighter community. A part of that portion is going to the Capcom Cup's prize pool.
According to Playstation's official website, the DLC purchases have already added an extra $90,000 to the Capcom Cup prize pool. This amount is on top of the already included $250,000 bringing the grand total to over $340,000.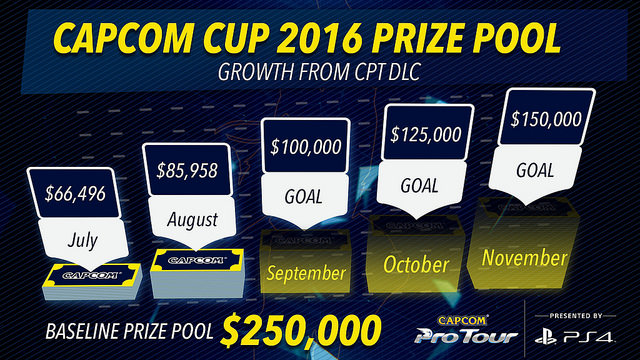 That's no chump change in the world of esports. The sum is especially high for a fighting game. The DLC is also currently available, meaning the Capcom Cup prize pool will likely continue to grow.
Another surprise for Capcom's champion
In addition to the hefty prize for first place, there is another special honor given to this year's Capcom Cup champ. A new costume is created for the character of the winner's choice to commemorate the victory.
Other competitive games currently offer this extra prize (League of Legends' world championship skins come to mind), but this is another big leap forward for fighting games. Not only will the winning player get to choose the character who will wear the championship costume, the champ will also get to work with Capcom's design team to pick the final design. Judging by character popularity alone, I think Balrog players should get their wallets ready.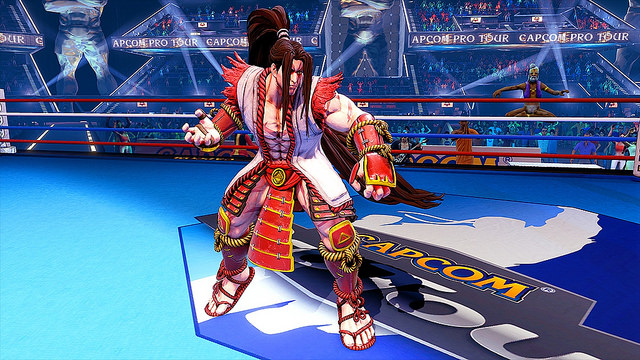 The championship costume from last year's Capcom Cup winner is currently available as a part of the Capcom Pro Tour 2016 DLC. The costume is a Japanese warlord getup dawned by Necalli.
Get it while it's hot
The Capcom Pro Tour 2016 DLC is currently available, and has been for some time. As the content is celebrating this year's Pro Tour, it will not be around forever. According to Playstation's official blog, the content is set to be pulled from the marketplace at the end of November.
If you want to support the Pro Tour, and add to the Capcom Cup prize pool, grab a costume, the Ring of Destiny stage, or the complete DLC pack while it's still available.