Cloud9's Support Situation
The 2015 Summer Split did not go as planned for Cloud9. There were several sides to the story of why C9 weren't at the top of North America. Problems within Team SoloMid and Cloud9, both two-time Champions in North America, enabled Counter Logic Gaming to dominate as they did. By now, many are aware of what Team SoloMid's problems were. The situation has arose from two issues: diminishing talent, and poor communication both in and out of League of Legends.
But what happened with Cloud9, and how did they end up in the middle of the pack? It comes down to consistency and cohesiveness within their roster. When Cloud9 became the first team to repeat as North American Champions, it wasn't just individuals to credit for their victories. Cloud9 was an unchanging organization; the roster, top lane to bottom, remained static from its conception to becoming title-holders. As parts of the machine began to wither, Hai and Balls in particular, things started to get shaky for Cloud9.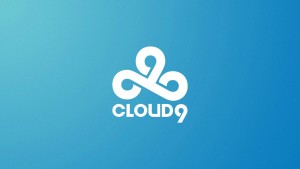 Meteos's departure should have foreshadowed Balls's severe decline at the end of the 2015 season. A swap of jungle philosophy from early game lane snowballing to mid game skirmishing with wombo-oriented jungle picks like Amumu and Shyvana provided Balls with less attention than usual. This proved to be particularly destructive to Cloud9 when Balls became much less consistent at making an impact on his own. When you add to the equation that Jensen (formly Incarnati0n) was a new addition to the team seeking integration, it becomes an issue to not focus on early game snowballing. Cloud9 should have maintained Meteos's approach as much as possible. Instead, likely because of Hai's lack of experience jungling at the LCS level, Cloud9 opted to play it safe and chose picks that work to facilitate late game teamfight victories for major objectives.
The one thing that can't be denied is Hai's importance to Cloud9. Hai is so important to Cloud9 that it becomes a fault. When roster troubles come their way, Hai is the replacement. Meteos out, Hai in. LemonNation out, Hai in. I'd be willing to bet that if Balls came down with the flu, Hai would be playing top lane the next week with BunnyFuFuu playing support for Sneaky. I disagree with Cloud9's decision-making when it comes to the roster selection. If Hai required replacement because he struggled to keep up with the competition, it's best to leave him out and move on. Especially given Cloud9's results from last Split, there aren't a whole lot of expectations placed on them to compete for a top spot right away. Fifth place has Cloud9's name on it. It's okay to lose games right now; whether Hai plays or not, Cloud9 will not face relegation.
It's clear that Cloud9 is a better team with Hai playing support at the moment. However, if BunnyFuFuu is truly a trusted replacement for LemonNation, why not let him have this Split to make some mistakes and gain experience within the Cloud9 setup? BunnyFuFuu has a lot of potential, but it can't be realized without Cloud9 trusting him first. He's a better mechanical talent than LemonNation, and healthier than Hai. Assuming the two veterans are working together to teach the newcomer, BunnyFuFuu could push Sneaky to further heights than we've seen the in past. Let him play.
Week 4: Cloud9 vs. NRG eSports – Hai Dominates
Cloud9 defeated NRG convincingly, and Hai was very impressive. I admit it. At 14:20 Moon and GBM over-committed trying to kill Jensen, and ended up on the wrong side of a 2v4 skirmish. This teamfight granted Jensen (Orianna) and Sneaky (Kalista) one kill each, including First Blood for the AD Carry. Hai showed good presence of mind, confident that flashing into the NRG jungle to hit GBM with a Dark Binding would be enough for Jensen to finish him off.
Eight minutes later Hai picked off KonKwon, NRG support, allowing C9 to setup Baron. The bait allowed Cloud9 to pick off Moon a second time, and Hai Flashed over a second wall to bind GBM again (this time for Sneaky to finish off). That teamfight ended with 4 kills to 0, and secured Baron for C9 which then led to two inhibitors in exchange for NRG's first kill of the match. The NRG nexus exploded shortly thereafter. If you'd like to see all the highlights, take a look for yourself.
When Hai plays like this, it's hard to question the decision the start him. Nonetheless, my opinion is unchanged. Against NRG, Hai looked like the Hai of old. He's certainly a threat and playmaker regardless of his position in a team because his macro knowledge allows him to make use of his Champion's kit in whichever way is correct for a given situation. Hai is valuable asset to have, and has already shown that he can get the job in matches that matter. His pick onto Darshan in Week 2, was a game-winning decision. A Flash + Pulverize combo while playing Alistar allowed C9 to break open CLG's base.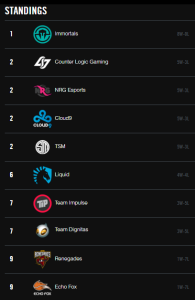 If you take a look at the NA LCS standings, you'll see two teams that have practically forfeited their chance at a playoff berth. That's Renegades and Echo Fox. Meanwhile, by upsetting NRG, Cloud9 tied themselves in the standings with Counter Logic Gaming, Team SoloMid, and NRG eSports for 2nd place. The second place teams remain 3 games behind the 8-0 Immortals team that has the rest of North America playing catch-up heading into the second half of the Spring Split.
Realistically, Cloud9 only has to stay ahead of Team Dignitas and a newly invigorated Team Impulse. They shouldn't have much trouble, and will likely slip into the playoffs around the 5th or 6th slot. If Cloud9 is looking for long term success, my advice would be to secure playoff position and then start BunnyFuFuu the rest of the regular season before deciding who is the better fit in their playoff match-ups.  BunnyFuFuu is a talent, and whether it's at Cloud9 or elsewhere, he's going to make his mark.
If you liked what you read, you can follow @SheenSah on Twitter to discuss anything LoL-related. Enjoy!