The new Hearthstone expansion: Mean Streets of Gadgetzan has officially been announced, and we have seen a handful of the 132 new cards. The biggest thing to note is that they have added factions! What are factions? Well class cards can be used by a single class. Neutral cards can be used by any class. Faction cards can be used by one of three classes. There is no overlap between the factions. There are nine classes, so there are three separate factions. Each faction has its own theme, which suits the classes it represents.
Grimy Goons
Covering the factions in no particular order, the first is the Grimy Goons. This faction represents the Hunter, Paladin, and Warrior classes. The Grimy Goons are, as the name implies, a mafia faction. An entire Grimy Goons lore page has been created on the Hearthstone site, found here.
The classes chosen here stand out specifically as weapon classes. I will be very surprised if we don't see some incredible weapon synergy, although none has been shown. So far they have been entirely based around giving buffs to cards in your hand.
Jade Lotus
The second faction is the Jade Lotus. This faction represents the Druid, Rogue, and Shaman classes. While no page has been created yet, we do know that all three factions are crime families. Unfortunately very little else is known about them this far. The only card released from them is a generic discover card which all three factions received.
Kabal
The final faction is the Kabal. This faction represents the Mage, Priest, and Warlock classes. Once again, it is a criminal family, and they are referred to as potion runners on the Grimy Goons page. This faction also does not yet have a lore page. However, they have one card that proves to be the most interesting card we've seen so far.
Kazakus and Crafting
Kazakus is the second card to work off of the mechanic of not having duplicate cards in your deck. The first obviously being Reno Jackson. Kazakus presents an entirely new mechanic however: crafting. If you have no duplicate cards in your deck, create a custom spell. The spells have three stages of creation. First you pick what mana cost you want, the options for this one being one, five, or ten mana. Then you choose an ability. Then you choose a second ability. You then are given a card for the mana you selected that combines the two abilities you chose.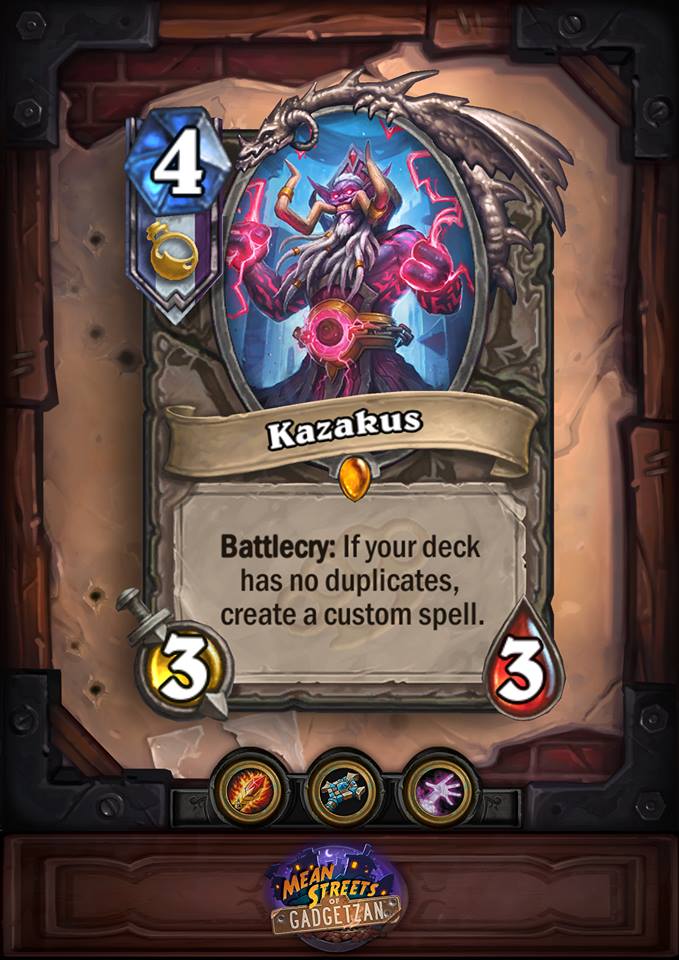 There was a preview video of crafting, seen here. In it, they showcased the ten mana abilities. The first set were: Copy 3 cards from your opponent's deck and put them into your hand, deal 6 damage to all minions or draw 3 cards. You choose one of these, then pick from the second set. The second set is: Summon 3 friendly minions that died this game, gain 10 armour or transform all minions into 1/1 sheep. The possibilities aren't endless, but there certainly are a lot. And that's just at the 10 mana cost! I'm very excited to see all of the possibilities, as well as see if they add other crafting cards.