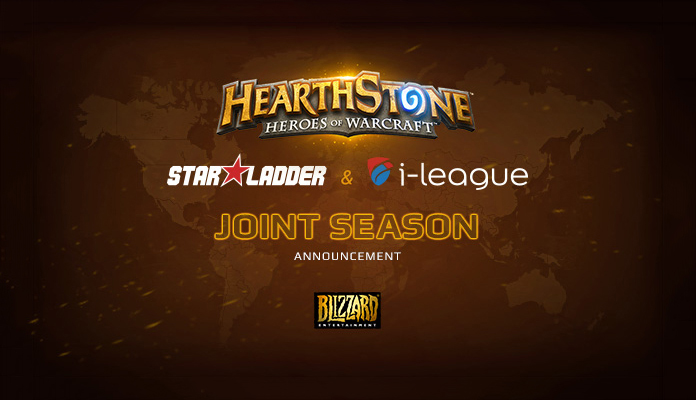 The Starladder Hearthstone tournament, paired with I-League has concluded their North American and European brackets. The final stage was the Last Chance round, in which players who were previously knocked out of their brackets have a final chance to fight through the ranks and advance to the finals. Of the twelve players in the Last Chance bracket, two have advanced to join the other four finalists, making a total of six English speaking players to advance to the finals. The two victors from the Last Chance bracket are JAB and Cipher.
JAB is one of the lesser known players in the Hearthstone scene, but he has been fast rising in popularity. He had been known for his Hunter deck primarily, but at the American Championship tournament he brought a particularly interesting Casino Mage and its success has brought him quite a bit of fame. One play in particular was broadcast widely, as he played Spellslinger into Tracking into a Fireball for the win.
In this tournament, he advanced out of the first set of group stages with a 2-2 record, but was unable to advance from the second set, coming in third in his group with a score of 1-2, behind Surrender and Dog. In the Last Chance bracket he was able to skip the first round because he came from the second set of brackets. The decks he brought were Secret Paladin, Patron Warrior, and Midrange Druid. He faced off against Orange first, and took the match 3-1, only losing his first game. In the final round he was against StanCifka, who has been making some very strong tournament showings this year. However, JAB took the round in a very quick 3-0, decisively winning the series. Throughout the entire Last Chance bracket he only dropped one game, which was when he was using his Secret Paladin against Orange's Oil Rogue. His very strong performance here has certainly earned him the spot that he now has in the finals, which will be later January.
The other finalist is Cipher. He was one of the better known players early on in the Hearthstone scene, but over the past year his tournament showings have been particularly lackluster. Here he has been given a chance to redeem himself, and he snatched it up. He was knocked into the lower bracket in the very first round, where he went 2-2 in his bracket, coming in third behind Dog and Lifecoach. Because he was knocked down so early, he had to fight through three rounds in the Last Chance bracket. The decks he brought were Reno Warlock, Midrange Druid, and Secret Paladin. Not only was his road longer than JAB's, they were also much rockier, with several close finishes. His first match was against Xixo, which was fairly smooth for Cipher, as he took a quick 3-1, only dropping one game to Xixo's Aggro Shaman. His second opponent was Thijs, a very strong opponent, who put up quite a fight. The match quickly went 2-1 in Thijs' favour, but Thijs simply couldn't secure a win with his Aggro Shaman, and Cipher was able to come back and take the match 3-2, beating the Aggro Shaman with both his Paladin and Warlock decks back to back. His final opponent was StrifeCro, another very well-known and respected Hearthstone player. Here Cipher took a quick two games, looking to close out the series fast, but StrifeCro was able to fight back against Cipher's Reno Warlock, tying up the series 2-2. The final game lasted over half an hour in an epic Reno Warlock versus Control Priest showdown which made it well into fatigue, but in the end it was Cipher who came out on top, edging his way into the finals. His victory over StrifeCro is particularly interesting, because in his very first tournament back in 2014, it was StrifeCro who knocked him out in a 2-3 match. Here Cipher was able to even the score and take his place in the upcoming finals.
JAB and Cipher will be joining Surrender, Dog, Kolento, and Amaz in the finals with six other Chinese players from the I-Leauge side of the tournament. This combined finals event will be happening later in January, and with such a strong showing so far, it will clearly be an event you won't want to miss.