The third season of the ESL Pro League has come to a close, and Luminosity have emerged victorious at yet another major LAN, further solidifying their position at the top of the Counter-Strike: Global Offensive food chain.
The Brazilian team have taken first place at three of the largest LAN events of 2016 so far: the MLG Columbus Major, DreamHack Austin, and, now, the ESL Pro League finals. While Luminosity's reign of terror over the past several months has been fearsome to observe, the ESL Pro League finals marked one of the first times that the team has seemed to struggle, losing a map during the group stage to Gamers2 (G2) and struggling to close out the grand finals. Of course, these "struggles" did little to stop the motivated Brazilian roster from pursuing a first place finish with relentless determination.
Unexpected French Guests
With only eight teams in attendance–the top four finishers from ESL's online seasons in both North America and Europe each received invitations to the event–the results of the LAN event seemed fairly predictable.
The European teams consisted of:
Ninjas in Pyjamas
Astralis
Fnatic
G2 Esports
The North American teams who traveled to London for the LAN finals were:
Cloud9
Luminosity Gaming
OpTic Gaming
Team Liquid
On paper, there were four teams that seemed to be shoe-ins for finishing top four, given recent and past form: Fnatic, Astralis, Luminosity, and (potentially) the newly resurgent Ninjas in Pyjamas lineup.
Perhaps the one team that everybody–myself included–overlooked this weekend was the long-struggling French roster of Gamers2 (G2). After surprising fans in early April by replacing in-game leader Kévin "Ex6TenZ" Droolans with relatively unknown  Alexandre "bodyy" Pianaro, formerly of LDLC White, the team has failed to perform at offline events. Their last-place exit at DreamHack Masters Malmö 2016 was particularly dreadful, as G2 secured a measly ten rounds in total at the Swedish LAN.
Yet this weekend, the ex-Titan roster accomplished something that has eluded the team for over a year: making the finals of a large LAN.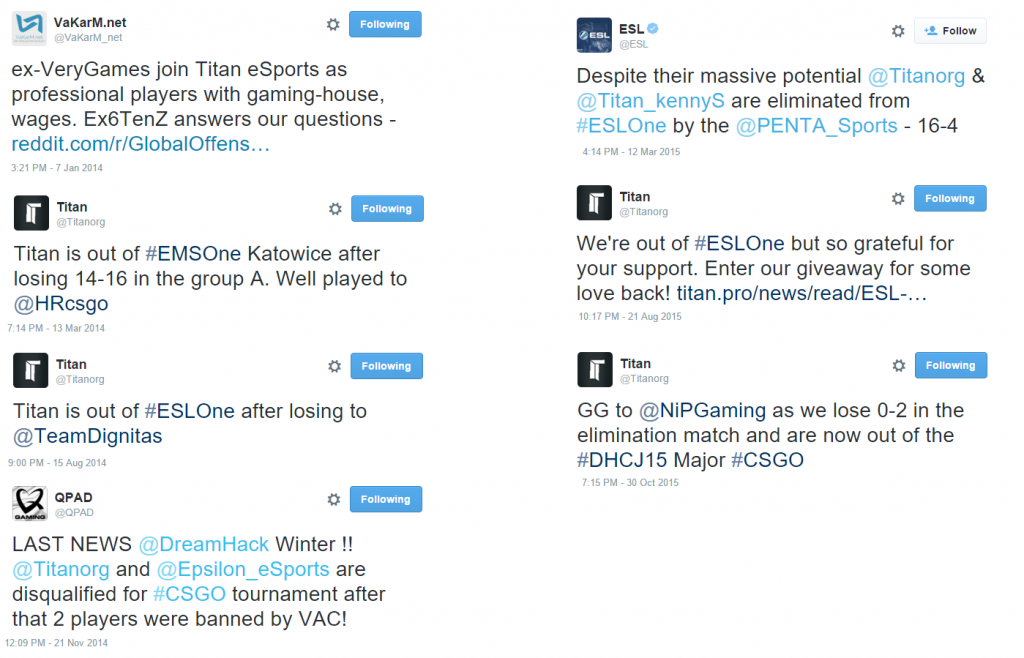 And not only did G2 reach the grand finals–a noteworthy feat by itself, as the French team eliminated Swedish powerhouses Fnatic in the semifinals–but they managed to pick up two map wins against Luminosity in the event's culminating best-of-five series.
While scorelines are often deceptive, they're worth examining here–over the course of five maps, neither team failed to reach double digits on a single map: 10-16 on Overpass (LG), 16-13 on Train (G2), 10-16 on Cobblestone (LG), 16-11 on Dust2 (G2) and 19-16 on Inferno (LG). These games were decided by a handful of rounds, economic stability, and emotional momentum–it was not a stomp, by any means. In fact, there have been few teams–Natus Vincere is one of them–that have even come close to looking as competitive against Luminosity as G2 did in the ESL Pro League grand finals.
The Gamers2 squad might not have been able to lift a trophy this weekend, but for the first time in a long time, it felt within reach.